The Helium line from Outdoor Research has set the standard in lightweight and packable rain shells for backcountry adventures and travel for years. In 2020, their updated Helium Rain Jacket and Rain Pants offer a better fit, improved waterproofing and durability, and are even lighter weight than before. The new Helium rainwear launched in spring of 2020 exclusively at REI.
This is a sponsored post, but as always, our opinions and reviews are completely independent and unbiased.
Quick Specs
Helium Rain Jacket
MSRP: $159
Measured weight (women's medium): 5.9 oz.
Measured weight (men's large): 6.6 oz.
---
Helium Rain Pants
MSRP: $119
Measured weight (women's medium): 5.9 oz.
Measured weight (men's large): 6.6 oz.
Pros
ULTRALIGHT – When we put the Helium jacket (women's medium) on the scale, it weighed a mere 5.9 oz. Conveniently, the pants weigh exactly the same. This means you can carry full rain protection for less than 12-13 oz. That's incredibly lightweight, considering most rain jackets alone weigh more than the Helium pants and jacket combined. Because it's so amazingly light, the Helium rainwear is excellent for activities where keeping weight to a minimum is really important, like hiking and backpacking.
AFFORDABLE – After a lot of research, we found that the average lightweight rain jacket costs between two and three-hundred dollars. With an MSRP of just $159, we consider the Helium rain jacket to be a very affordable ultralight option. The Helium pants are also well below the average cost of lightweight rain pants. Both are a solid choice for those on a budget and an excellent value for the price.
HIGHLY-COMPRESSIBLE – The Helium rain jacket packs down to roughly the size of a grapefruit, so it won't take much room in your backpack or travel bag. It's designed to be stuffed into its own chest pocket, eliminating the hassle of keeping track of a small stuff sack. It's also equipped with a hang loop for convenient carrying on a belt loop or backpack. Just keep in mind, that the visor on the hood might get a bit misshapen if compressed for a long time. We like to store our rain jackets loosely at the top of our backpacks for easy access or hang them on a hanger in a closet at home.
DURABLE FOR AN ULTRALIGHT JACKET – The Helium jacket and pants are made with ultralight fabrics, so don't expect them to be as tough as thicker more heavy-duty rainwear. That said, they hold up pretty darn well to normal wear and tear. The latest rendition of the Helium is constructed with a 2.5-layer, 30D ripstop fabric called Pertex Shield Diamond Fuse, which has five times the tear strength of the previous Helium fabric and a 50 percent higher waterproof rating. It also has lightweight, yet durable water-resistant zippers that function smoothly and keep rain out. For an ultralight rain jacket, it's surprisingly durable.
Cons
NO HAND POCKETS – It's fairly common for manufacturers to cut out hand pockets in ultralight jackets to keep weight and cost down, but hand pockets are nice to have. We wish the Helium rain jacket had hand pockets to provide relief for our hands when it's cold and wet outside. Since it doesn't have any, we protect our digits from the elements using waterproof gloves or rain mitts. For those who don't tend to use hand pockets, the simplicity of this design will work great. For us, we tend to prefer jackets with high angled hand pockets that work well with backpack hip belts, but it's hard to find those types of features in this weight class and price range.
LIGHTWEIGHT MATERIALS TEND TO BE LESS DURABLE – The latest Helium rainwear is made with a tougher fabric than previous versions, but ultralight jackets still tend to be less durable then heavy-duty rain shells. So we wouldn't recommend this jacket for rugged off-trail adventures or if you're really hard on gear. As with any rain gear, it's smart to be prepared to do field repairs with Tenacious Tape when using the Helium jacket/pants in the backcountry. Also, like all rain jackets, you will need to re-treat the Helium with DWR spray periodically to restore water repellency as it wears out, especially in the shoulders where backpack straps rub.
NO PIT ZIPS – Pit zips are another feature that manufacturers often cut out when designing ultralight jackets to keep weight and cost to a minimum. Zippers at the underarm allow you to dump excess heat and moisture that build up as your body works hard and gets warm. The Helium rain jacket doesn't have pit zips, so it's not quite as breathable as it would be with that feature. That said, that no rain jackets are truly very "breathable," and it's likely you'll overheat hiking uphill even in a jacket with pit zips.
PARTIAL PANTS ZIPPERS – The Helium rain pants feature a partial zipper at the ankle that makes it easy to access shoe or boot laces for adjustment. It's possible to put on and take them off without removing your shoes, but only if your footwear isn't too bulky. If you wear boots, you'll probably need to take them off. A Z-Seat Pad is really handy to stand on if you need to take off your shoes to step in or out of rain pants without getting your feet wet. Unless pants have full side zippers (which makes them heavier), this is a common annoyance with rain pants and overall, the Helium pants are pretty user-friendly.
RUNS A BIT SMALL – Overall, we like the slim design of the Helium Jacket, but it fits a bit on the snug side so you'll have to size up if you want the ability to wear a down jacket underneath. Generally, jackets that are a little bit roomier have better airflow and are more versatile for layering.
More Helium Photos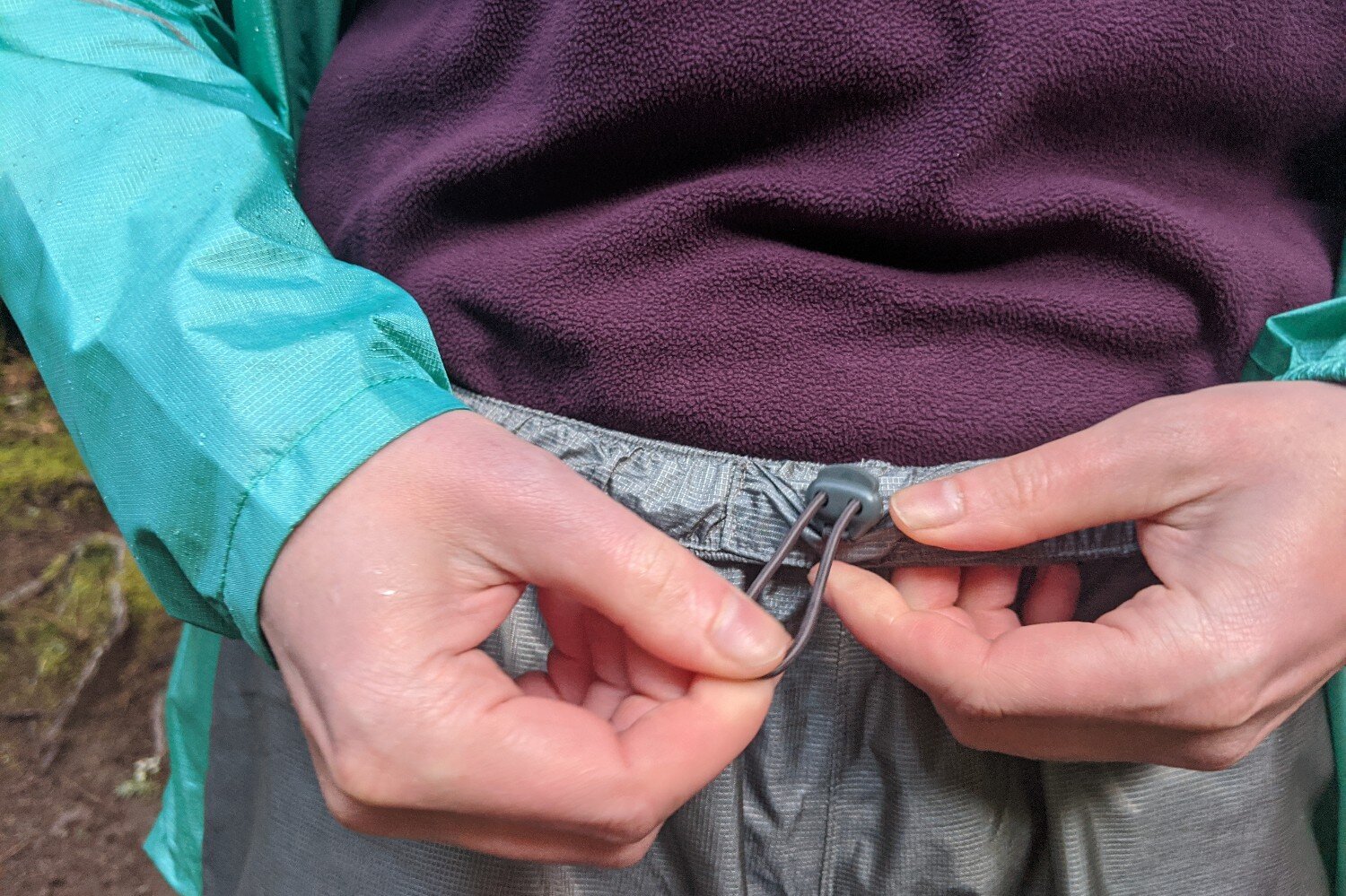 Bottom Line
The Helium Rain Jacket and Pants are among the most affordable options in the ultralight rain shell market. Since they pack up small and don't add much weight to your load, this rainwear is especially fitting for hiking, backpacking, travel, or even to stash in your car for the unexpected. Though the Helium jacket lacks a few features that would make it more functional, like hand pockets and pit zips, it's still a great buy for those who are on a budget or those who prefer a simple, ultralight design.
MORE: If weight isn't a major concern for you, you might also like the Helium Hybrid (view women's here), which has stretch panels that make it extra comfortable to move freely in. For urban environments, Outdoor Research also offers the Traveler in women's, which is a longer, trench style jacket.
More Information
We hope this review helps you determine if the Outdoor Research Helium Jacket and Pants are the right rainwear for you. As always, please leave a comment below if you have any recommendations, questions, or suggestions.
For more popular CleverHiker content, check out the following links:
---
---
Some of the links on this page are affiliate links, which means we may receive a modest commission if purchases are made through those links. This adds no cost to our readers and helps us keep our site up and running. Our reputation is our most important asset, which is why we only provide completely honest and unbiased recommendations.