Best Travel Backpacks of 2023
We love traveling – every detail of it. Yes, even the airports and even packing. Pairing down the essentials into one single bag can be fun and freeing as long as you have the right gear and the right travel backpack to pack it in.
We've used a ton of travel backpacks over the years, and we'll use our experience to help you find the very best travel backpack for your needs.
Last updated: October 2, 2023
Quick Recommendations
Check out this quick list of our favorite travel backpacks, or continue scrolling to see our full list with in-depth reviews.
WHAT'S MOST IMPORTANT TO YOU INA TRAVEL BACKPACK?
PRICE – Plane tickets, rental cars, hotel stays, and all of the essential gear – travelling can get very expensive! A good travel bag doesn't have to cost you an arm and a leg, but we've found that paying a little extra usually means a more durable, organized, and stylish pack.
CARRY-ON SIZE – One-bag travel is our favorite way to go. Not only do you save money on checked-bag fees, but you also have less stuff holding you back from adventuring. Carry-on size varies between airlines, and while most of the backpacks on this list are carry-on friendly, these are our favorites to fit the most common dimensions.
ORGANIZATION – Exploding our packs as soon as we reach the hotel or hostel is part of the experience. But until then, we like everything to be organized and efficient. In our travels, we prefer streamlined backpacks that have a small number of highly functional pockets.
COMFORT – Your backpack will be your constant companion for trips where you're moving around a bunch. It's important to find a bag that's comfy enough to carry all day, so that you can focus on enjoying the experience.
WEIGHT – We've been there before. You get your bag packed with your photography gear and your favorite outfits, and then you remember that pesky weight limit and it all goes to pot. Starting with a lightweight bag will ensure you can use your weight allowance for the essentials.
VERSATILITY – Your bag may have to take on many different roles – daypack, purse, briefcase – so it's good to look for one that can fill multiple niches.
DURABILITY– We've definitely had our bags come out of the luggage carousel looking like they were thrown into the propellers. It's not a good look. Travel is hard on bags, so we always look for one that has solid stitching and a sturdy frame.
---
Best Travel Backpacks of 2023
---
BEST TRAVEL BACKPACK OVERALL FOR ORGANIZATION, DURABILITY & STYLE
MSRP: $200
WEIGHT: 3 lbs. 8 oz.
DIMENSIONS: 20 X 12 X 10 in.
PROS: Main compartment opens fully,durable, stylish, streamlined organization, hideaway straps, raincover included
CONS: Expensive
BOTTOM LINE: The Cotopaxi Allpa has everything we look for in a travel pack – streamlined organization, easy-access pockets, a comfortable carry, and unique style. The main compartment organization is about as close to perfect as it comes for us. There are four zipper compartments of different sizes for keeping things tidy, and they're all made of mesh which makes it easy to see what's inside. We've been using the durable Allpa pack for several years of travel now, and the stitching, hardware, and outer materials look just as good as the first time we used it.
---
BEST BUDGET TRAVEL BACKPACK
MSRP: $200 (often on sale for less)
WEIGHT: 3 lbs. 15 oz.
DIMENSIONS: 22 x 14 x 10
OTHER OPTIONS: Mother Lode Jr.
PROS: Affordable,fits large laptops (up to 19"), lightweight, streamlined organization, main compartment opens fully
CONS: No hipbelt, laptop compartment isn't as padded as others
BOTTOM LINE: With the features of a premium bag and a price tag from the bargain bin, the Ebags Mother Lode travel backpack is an incredible value for the money. This expandable bag opens up suitcase-style to a tidy internal organization system with one large mesh zipper pocket and a modular "shelf" with compression straps. The shelf helps keep things, like clean and dirty clothes, separate, or it can be unclipped to make one large compartment for packing whatever way you like. The Mother Lode is an excellent choice for travelers with expensive taste and a small budget.
---
MOST ORGANIZED TRAVEL BACKPACK FOR ONE-BAG TRIPS
MSRP: $350
WEIGHT: 4 lbs. 8 oz.
DIMENSIONS: 21.7 x 13.8 x 7.9 in.
OTHER OPTIONS: 30L Weekender
PROS: Lots of organizational features, main compartment opens fully, adjustable & supportive suspension system, heavily padded TSA laptop pocket (up to 16"), lots of electronics storage
CONS: Expensive, heavier than others
BOTTOM LINE: If you're the type of traveler who wants everything to have its own designated space, the Tortuga Travel Backpack 40L will be your new favorite travel companion. The spacious main compartment opens up fully like a suitcase and has a handy mesh pocket to separate dirty clothes. It also has quick-grab pockets on the exterior for wallet items and small essentials and a huge TSA-ready electronics compartment. All of these features make this travel pack feel much larger than it is. For those who have to carry electronics on every trip, this bag has our favorite laptop compartment; it's heavily padded and fleece-lined to keep your valuables protected. So many pockets may be intimidating for some, but it's perfect if you have a lot of little things to keep tidy.
---
BEST TRAVEL BACKPACK FOR PHOTOGRAPHERS
MSRP: $300
WEIGHT: 4 lbs. 8 oz.
DIMENSIONS: 22 x 13 x 11 in. (fully expanded)/22 x 13 x 9.5 in. (compressed)
PROS: Highly padded, waterproof, lots of access points, handles on all sides, stylish, streamlined organization, TSA laptop pocket, hideaway harness, theft-deterrent zippers
CONS: Expensive, heavier than some others
BOTTOM LINE: The Peak Design Travel Backpack is the epitome of smart, elegant design. With its multiple access points (back, side, and front) and slick expansion system, this bag can be tailored to countless uses. It really shines when you have a lot of camera gear and electronics to tote, but don't think that this bag is just for photographers. Its stylish look and streamlined organization will work well for anyone wanting a single bag that can fit many niches. The price tag is pretty high, but the heavy padding, weather confidence, and safety features are worth it in our opinion.
---
MOST VERSATILE & STYLISH TRAVEL BACKPACK
MSRP: $300
WEIGHT: 4 lbs 2.3 oz.
DIMENSIONS: 18.5 x 12 x 9.5 in.
OTHER OPTIONS: 40L Travel Bag
PROS: Stylish, waterproof zippers, TSA laptop compartment, main compartment opens fully, RFID safe pocket, removable hipbelt/hideaway straps
CONS: Expensive, heavier than some others
BOTTOM LINE: The Nomatic Travel Pack is definitely the most sleek-looking bag we tested, but it's also chock-full of useful features. It expands from 20L to 30L making it versatile enough to work as an everyday backpack, a commuter bag, and a travel bag. We also love how many different types of storage there are – magnetically expandable water bottle pockets, TSA-ready laptop and tablet sleeves with plenty of padding, and a large zippered mesh internal pocket to name a few. The Nomatic Travel Pack costs a pretty penny, but you'll be hard-pressed to find a better bag if style and versatility are what you're after.
---
BEST TRAVEL DUFFEL BAG
MSRP: $159
WEIGHT: 2 lbs. 8 oz.
DIMENSIONS: 21 x 13.7 x 10.6 in.
PROS: Affordable, spacious, water resistant, durable, multiple carry options, lightweight
CONS: Fewer pockets, no padded compartment for electronics, not the most comfy backpack
BOTTOM LINE: For those times when you wanna just throw everything in a bag and go, you can't beat the convenience and durability of the Patagonia Black Hole Duffel. Made of burly 900-denier recycled ripstop polyester, you can put this thing through the wringer without having to worry about it. It can easily be converted into a backpack using the included detachable pack straps, but it feels a little awkward to carry this way if you need to haul it a long distance. The Black Hole Duffel works great for quick trips or for packing bulky things that won't fit in your carry-on. Check out our list of the Best Duffel Bags to see how it compares with our other favorites.
---
TRAVEL BACKPACK WITH THE BEST SAFETY FEATURES
MSRP: $280
WEIGHT: 4 lbs. 4.8 oz.
DIMENSIONS: 21.7 x 13 x 7.9 in.
PROS: Built-in anti-theft & safety features, comfortable carry, main compartment opens fully, stylish, streamlined organization, hideaway straps
CONS: Fewer pockets, takes a second to open due to safety features
BOTTOM LINE: The Pacsafe Venturesafe EXP45 is the ultimate pack for those travelling with valuables that need to be kept safe. It comes with locking zippers, a cable lock, and slash guards in the straps. The zippers take a minute to open when they're in the locked position, but they open up to a nicely organized bag with simple pockets. In our experience, many travel backpacks aren't necessarily designed with comfort in mind, but the Venturesafe was the most comfortable all-day carry for us thanks to a heavily padded back and flexible hipbelt. If keeping your things secure is your main concern, the Venturesafe is the pack for you.
---
DURABLE & HIGHLY COMPRESSIBLE TRAVEL BAG
MSRP: $185
WEIGHT: 3 lbs. 8 oz. (Farpoint) / 3 lbs. 7 oz. (Fairview)
DIMENSIONS: 22 x 14 x 9 in.
OTHER OPTIONS: Farpoint 55 & 70 (men's sizes), Fairview 55 & 70 (women's sizes)
PROS: Durable, comfortable, lightweight, good compression system, main compartment opens fully, hideaway straps, multiple carry options
CONS: Laptop compartment is not as padded as some others
BOTTOM LINE: The Osprey Farpoint (men's sizes) and Fairview 40 (women's sizes) are comfortable bags with quality construction. They have some of the most burly hardware (zippers, buckles, straps) of all the backpacks we tested, so they're especially great for folks who tend to be hard on their gear. The Farpoint and Fairview have a simple approach to organization, so we recommend picking up some packing cubes if you want to customize the inside a little more. Once you have things the way you like them inside, these bags have internal and external compression straps to cinch it all down into a neat package. The Farpoint and Fairview can be tailored to many different travel styles with the option to carry as a backpack, a briefcase, or a messenger bag.
---
MOST PROTECTIVE TRAVEL BACKPACK
MSRP: $195
WEIGHT: 3 lbs. 7 oz.
DIMENSIONS: 18 x 15.8 x 12.2 in.
PROS: Durable, spacious, good compression, good suspension, main compartment opens fully, streamlined pocket organization
CONS: Bulky, a little large for carry-on with some airlines, sidewalls can get in the way when packing
BOTTOM LINE: If you're a rugged adventurer who needs an equally tough bag, check out the Osprey Sojourn Porter. Whether you're throwing it under your seat on a plane or sending it with the checked luggage, you can rest assured that your things are protected thanks to the padded sidewalls. These rigid sidewalls can be a little cumbersome when trying to pack the bag, but they're excellent for compressing the load.The opening of the Porter is more similar to a duffel, so the interior organization is minimal. Pair the Porter with some packing cubes if you prefer things to be more organized. The Porter is great for those looking for a simple, durable bag for the most adventurous excursions.
CRITICAL TRAVEL BACKPACK CONSIDERATIONS
WHAT SIZE TO CHOOSE – The right size backpack is going to vary from person to person, but we typically think less stuff equals more comfort. We usually go for travel backpacks that are between 30 and 40L to maximize capacity for necessities while keeping everything in a small, tidy package.
GETTING ORGANIZED – Keeping things organized is key to a stress-free experience. Some travel backpacks come with a pocket or compartment for everything, but we prefer organizing our things in packing cubes for a more customizable way to keep everything neat.
SAFETY – The most important travel safety tip we can give is to just be aware of your surroundings. Some people also like to bring small luggage locks to lock zippers and RFID technology wallets and card sleeves to protect sensitive information.
CARRY-ON SIZE – Carry-on size varies a lot between airlines, check your airline's website to make sure your bag fits their dimensions. Also be sure your toiletries and liquids meet the standard of 3-1-1 (3.4 oz. liquids in 1 bag sized at 1 quart max) for carry-on. We love using refillable GoToobs for our shampoo, conditioner, and other toiletries.
Need More Gear Advice?
If you liked this list, you'll love the CleverHiker Gear Guide where we test and recommend tons of outdoor adventure gear from a variety of categories. here are some links to popular articles:
Why Trust Us?
We fully understand how tough it is to find trustworthy gear advice, and that's one of the main reasons we built CleverHiker. We live for outdoor adventure, and we take these guides very seriously. Here are some of the reasons you can trust us:
Our choices are completely independent and based on personal experience.
We've logged over 10,000 trail miles and test outdoor gear for a living.
We own and field test every product we recommend, which is sadly not the norm.
We travel to industry trade shows to learn about upcoming product innovations.
We constantly update our guides when new products launch.
We treat our recommendations as if they were for our family and friends.
We're lifelong learners and we're always open to constructive criticism. If you think we've missed a product or got something wrong, we'd love to hear your feedback.
MORE INFORMATION
We hope this guide helps you find the perfect gear for your needs. If you have more questions or a suggestion, we'd love to hear from you! Sign up for our newsletter to stay updated on our latest posts then visit our Facebook page and Instagram to join the community conversation.
If you found this guide helpful, please give it a share on social media! Also, be sure to check out our CleverHiker Gear Guide to see all of our top gear picks.
Thanks for reading and happy trails!
---
Featured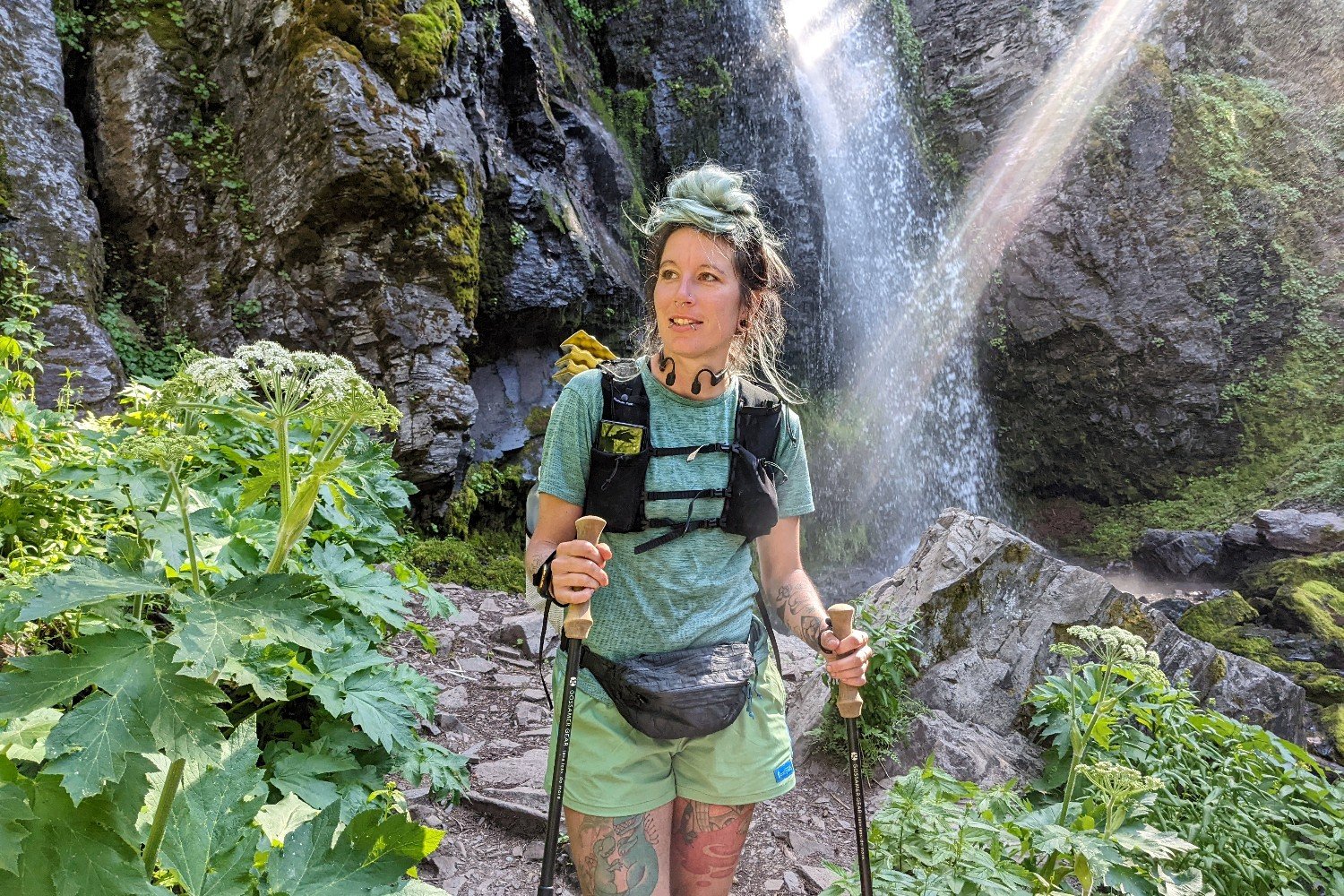 Casey Handley is an avid backpacker and self-described gear nerd. She's hiked thousands of miles on long distance trails across the country including the Appalachian Trail, John Muir Trail, Colorado Trail, Arizona Trail, and Long Trail. The crinkle of a new Dyneema tent, the smell of Doug fir trees, and shaving an ounce off her pack weight are a few of her favorite things.
---
Some of the links on this page are affiliate links, which means we may receive a modest commission if purchases are made through those links. This adds no cost to our readers and helps us keep our site up and running. Our reputation is our most important asset, which is why we only provide completely honest and unbiased recommendations.