Tired of sitting in the dirt? Elevate your next backpacking trip with a minimalist seat that makes break time and chilling in camp more comfortable. We rounded up the best sit-pad and chair options on the market and tested them thoroughly (by kicking back in beautiful places) to make it easy for you to choose an option that's right for you. As usual with backpacking, it's critical to keep weight and bulk to a minimum so we only considered chairs that weigh 2 lbs. or less for this list. We hope this guide helps make your next adventure more relaxing and enjoyable than ever before.
Quick recommendations
Check out this quick list of our favorite backpacking chairs, or continue scrolling to see our full list with in-depth reviews.
Backpacking Chair Comparison Table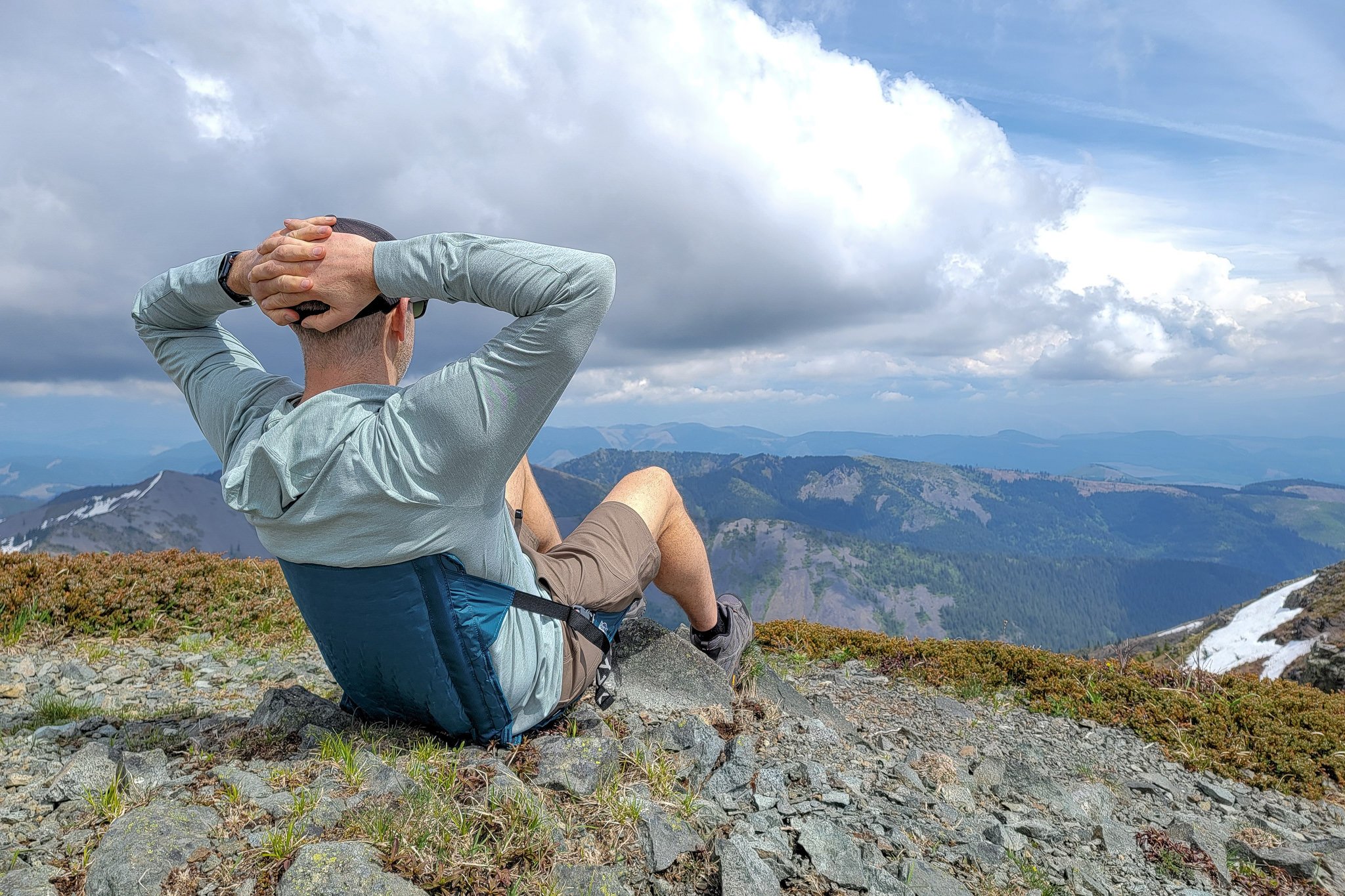 What's Most Important to You in a Backpacking Chair?
PRICE- You don't have to spend a lot to get a great backpacking chair – some of our favorite options are simple and affordable sit pads. That said, we've found that it's often worth it to spend a bit more for a high-quality chair if you're looking for the best balance of comfort and portability.
WEIGHT/PACKED SIZE – Keeping the weight and size of your chair to a minimum is important for backpacking since you'll be carrying it on your back. We generally opt for ultralight sit pads on longer trips when we're covering a lot of miles. For shorter, more leisurely trips, a slightly heavier/bulkier chair can be worth carrying for maximum comfort.
COMFORT/BACK SUPPORT – Sit pads insulate you from the cold/wet ground and provide some padding, but they don't offer back support. Chairs that raise you up off the ground are easier to get in and out of (especially for those with bad knees) and are usually more comfortable for extended use.
EASE OF USE – It's tough to beat the convenience of a sit pad for trail breaks since they're so quick to deploy and pack up, but they don't offer quite as much comfort as a chair. Portable chairs with folding frames get you off the ground and are more comfortable, but they take a minute or two to set up and pack away.
---
Best Backpacking Chairs of 2023
---
Therm-a-Rest Z-Seat Pad
Best backpacking sit pad
Price: MSRP: $33
Weight: 2 oz.
Pros
Affordable
Ultralight
Compact
Convenient
Versatile
Though it's super basic, the Therm-a-Rest Z-Seat Pad is an all-time favorite seat among ultralight backpackers and thru-hikers. It doesn't provide any back support, but it does add a layer of softness and insulation between you and the ground, which is really important on cold and wet days. You'll also vastly improve the appearance of and extend the life of your pants or shorts by sitting on a pad instead of the ground. The Z-Seat is extremely lightweight and super convenient to deploy and pack away for quick trail breaks, which makes it ideal for use throughout the day. Whether you're backpacking or day-hiking, the Z-Seat is a must-have in our opinion.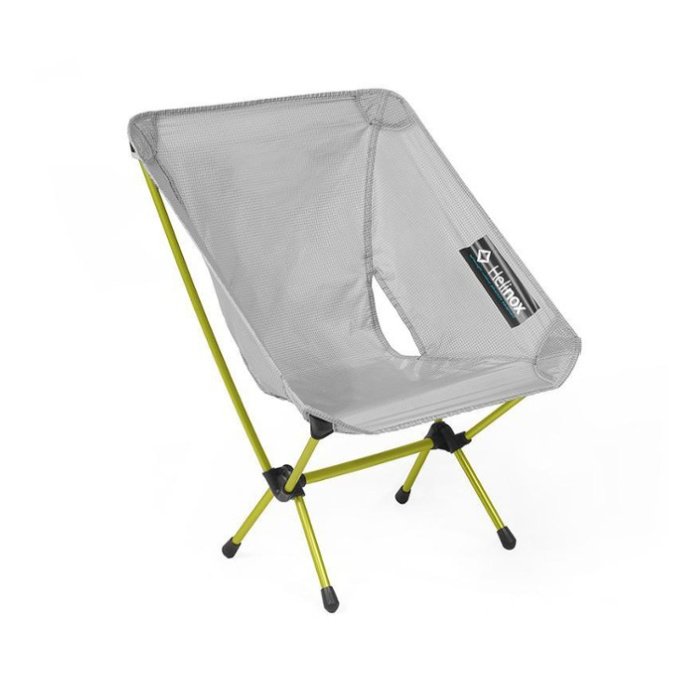 Helinox Chair Zero
Best ultralight portable chair
Price: $150
Weight: 1 lb.
Weight Limit: 265 lbs.
Pros
Lightweight
Compact
Comfortable
Cons
Expensive
Takes a minute or two to set up & break down
No armrests
No cup holder
If portability is important to you, the Helinox Chair Zero is one of the best options on the market. It only weighs a pound, and it folds up into a stuff sack about the size of a water bottle. We even take ours on backpacking trips when comfort is a priority. The nylon scoop seat supports your back in a slightly reclined position, and it's just the right height for your legs to extend comfortably. If you're looking for maximum portability without compromising comfort, we highly recommend the Helinox Chair Zero. There's also a Highback version — it'll cost you a bit more, but it's even more comfortable and supportive.
Gossamer Gear Thinlight Foam Pad
Ultralight, affordable & versatile foam pad
Price: MSRP: $22
Weight: 2.7 oz.
Pros
Affordable
Ultralight
Compact
Convenient
Versatile
The Gossamer Gear Thinlight is a great chair solution for hikers who want to keep weight to an absolute minimum without foregoing comfort. It not only makes a great sit pad when you fold it up, but you can also use it as insulation with your sleep system, or stretch out on it like a yoga mat. Having a full-size mat to use while taking breaks keeps you out of the dirt so you stay cleaner and more comfortable on multi-day trips. The great thing about the Thinlight Pad is that you can use it for a multitude of things, and you can cut it to any size you need. The Thinlight Pad is one of the lightest, and most versatile options on the market, and one of the most affordable too.
REI Flexlite Air & Flexlite Camp Chair
Best value backpacking chair
Price: MSRP: $100 / $70
Weight: 1 lb. / 1 lb. 11 oz.
Pros
Great value
Comfortable
Back support
Lightweight
Compact
Off the ground
Cons
Flexlite Air is a bit spendy
A bit bulky
Flexlite Camp Chair is a bit heavy
Takes a minute or two to set up/pack away
The REI Flexlite Air Chair is very similar to Helinox's Chair Zero, but it costs considerably less. While we prefer the Chair Zero for its slight increase in durability/toughness, comfort, and more secure pole structure, the Flexlite Air is just as comfortable and easy to set up. If you don't mind a little extra weight (11 more ounces to be exact) the popular Flexlite Camp Chair is even more affordable. The Flexlite is a great option for those who prioritize price a bit more than weight savings. It's comfortable, and still highly portable for day trips, camping, and short backpacking trips on easy terrain.
Big Agnes Skyline UL
Supportive chair with an exceptionally stable build
Price: $150
Weight: 1 lb. 12 oz.
Pros
Supportive
Easier to get out of than other compact chairs
Packable
Stable
Cons
A little heavy for backpacking
Expensive
Takes a minute or two to set up/pack away
Big Agnes is known as "the mother of comfort" and the Skyline UL Chair certainly lives up to that reputation. This chair is very similar in design to the REI Flexlite and Helinox Chair Zero, but it's much more supportive and sits at a more comfortable height. At nearly two pounds, the Skyline is a little heavy for backpacking, but it's very compact and is a nice luxury to carry on shorter trips.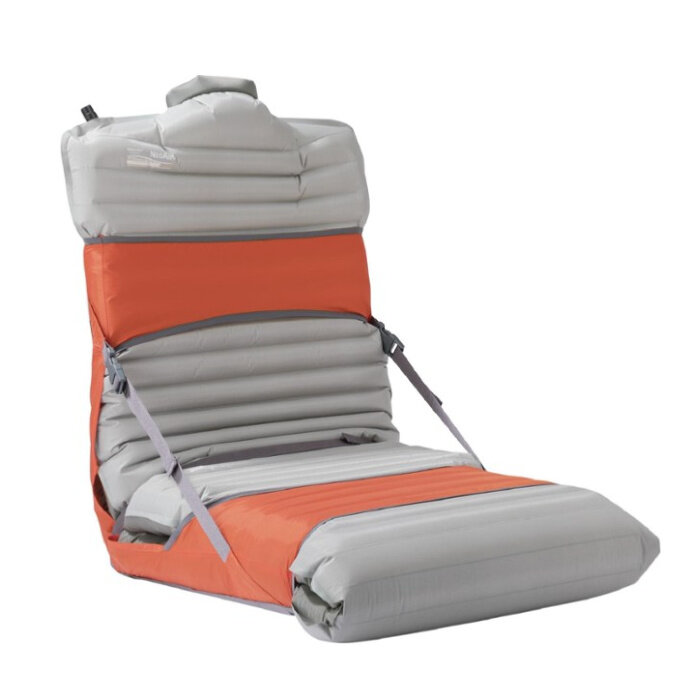 Therm-a-Rest Trekker
Uses an inflatable sleeping pad for cushion & back support
Price: MSRP (20 in.): $65
Weight: (20 in.): 10 oz.
Pros
Affordable
Lightweight
Compact
Comfortable (back support)
Cons
Slightly cumbersome to set up
Requires inflatable sleeping pad
The Therm-a-Rest Trekker Chair is comfortable and provides good back support while being lightweight and compact. To use the Trekker Chair, you'll need a NeoAir or comparable sleeping pad, which is sold separately. It takes a few minutes to inflate the sleeping pad and slip it into the elastic sleeves, so it's probably not something you'd be able to quickly whip out for short trail breaks. But it makes a luxurious resting place in camp when you need it most. We recommend using a small ground cloth underneath the Trekker Chair to ensure its safety when outside the tent since your sleeping pad is really important and inflatables run the risk of being punctured.
Moon Lence Portable Chair
Budget-friendly backpacking chair for short trips
Price: MSRP: $34
Weight: 2 lb.
Pros
Affordable
Comfortable (back support)
Off the ground
Cons
Heavy/bulky
Takes a minute or two to set up/pack away
The Moon Lence Portable Folding Chair is an affordable crossover chair with a design similar to other luxury chairs on this list. It's well-made, comfortable, and off the ground, but at 2 lbs. it weighs the maximum amount we'd consider reasonable for backpacking. That said, the Moon Lence is still a good option for short trips and front-country activities due to its budget-friendly price tag.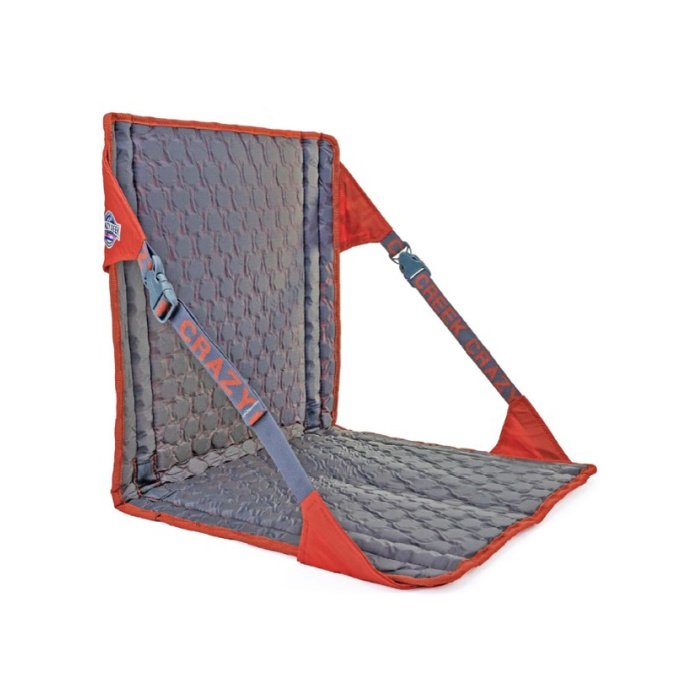 Crazy Creek Hex 2.0
Durable & convenient backpacking chair with back support
Price: MSRP: $65
Weight: 1 lb. 4.8 oz.
Pros
Convenient
Durable
Back support
Cons
Heavy/bulky
A bit expensive
The Crazy Creek Hex 2.0 provides a clean dry surface to sit on and offers back support, unlike a basic sit pad. It isn't the lightest or most compact option available, but it's great for those who prioritize durability and convenience. The Hex 2.0 is pretty versatile in the frontcountry as well – we've used ours to make bench seating at events more comfortable, and we've even taken it out on our paddleboard to recline. Before buying, you may also want to consider the LongBack, which is taller and wider or the Power Lounger, which has more coverage under the legs.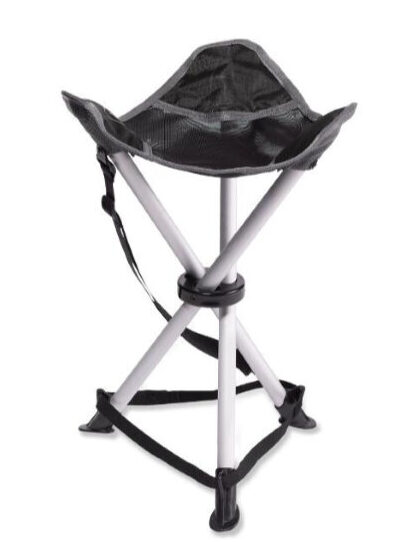 REI Trail Stool
Compact folding stool that sits higher
Price: MSRP: $25
Weight: 1 lb. 2 oz.
Pros
Affordable
Convenient
Off the ground
Cons
A bit heavy/bulky
No back support
The REI Trail Stool is a very affordable option for those who simply want to get off the ground for short hikes and day trips. The Trail Stool is quick and easy to get out/put away on the trail, and certainly beats sitting on the ground for activities like cooking or fishing. Unfortunately the Trail Stool doesn't provide any back support, which limits its comfort for relaxing around camp. If you have bad knees and simply need a place to perch on trail breaks and in camp, the Trail Stool may be well-worth considering.
CROSSOVER CHAIRS – If you'll likely be carrying your chair on lots of day trips, it's wise to keep size and weight to a minimum for maximum portability. Many chairs on the market fold down small enough to be stashed in a day pack. If you hope to use your chair for both backpacking and front-country camping, look for a "crossover" chair with a good balance or weight and comfort. The Helinox Chair Zero, REI Flexlite / Flexlite Air, and Moon Lence Portable chairs are all excellent examples of crossovers that are luxurious for backpacking, but minimal for front-country camping and day trips.
More Information
We hope this guide helps you find the perfect gear for your needs. If you have more questions or a suggestion, we'd love to hear from you! Sign up for our newsletter to stay updated on our latest posts then visit our Facebook page and Instagram to join the community conversation. If you found this guide helpful, please share on social media and click the little heart button below to give us a digital high five! Also, be sure to check out our CleverHiker Gear Guide to see all of our top gear picks. Thanks for reading and happy trails!
---