REI has officially entered the quilt market and their first offering is quite competitive, as we would expect. The Magma Trail Quilt 30 has an excellent warmth-to-weight ratio, packs down small, and is priced fairly for its quality. Unlike some quilts which can open fully like a blanket, the Magma Trail Quilt has a fully sewn footbox. Although this slightly limits its versatility, this design is one of the absolute best for warmth-to-weight ratio. The Magma Trail Quilt has earned a spot on our lists of the Best Backpacking Sleeping Bags and Best Backpacking Quilts.
Quick Specs
MSRP (Regular Size): $329

Weight (Regular Size): 1 lb. 3 oz.

Fill Power: 850 Goose Down

Temp Ratings: 30°F

Sizes: Regular, Short, & Long sizes available

Color: Asphalt

Product Tested: We tested a 30°F Long
---
Magma Trail Quilt Photos – Long Model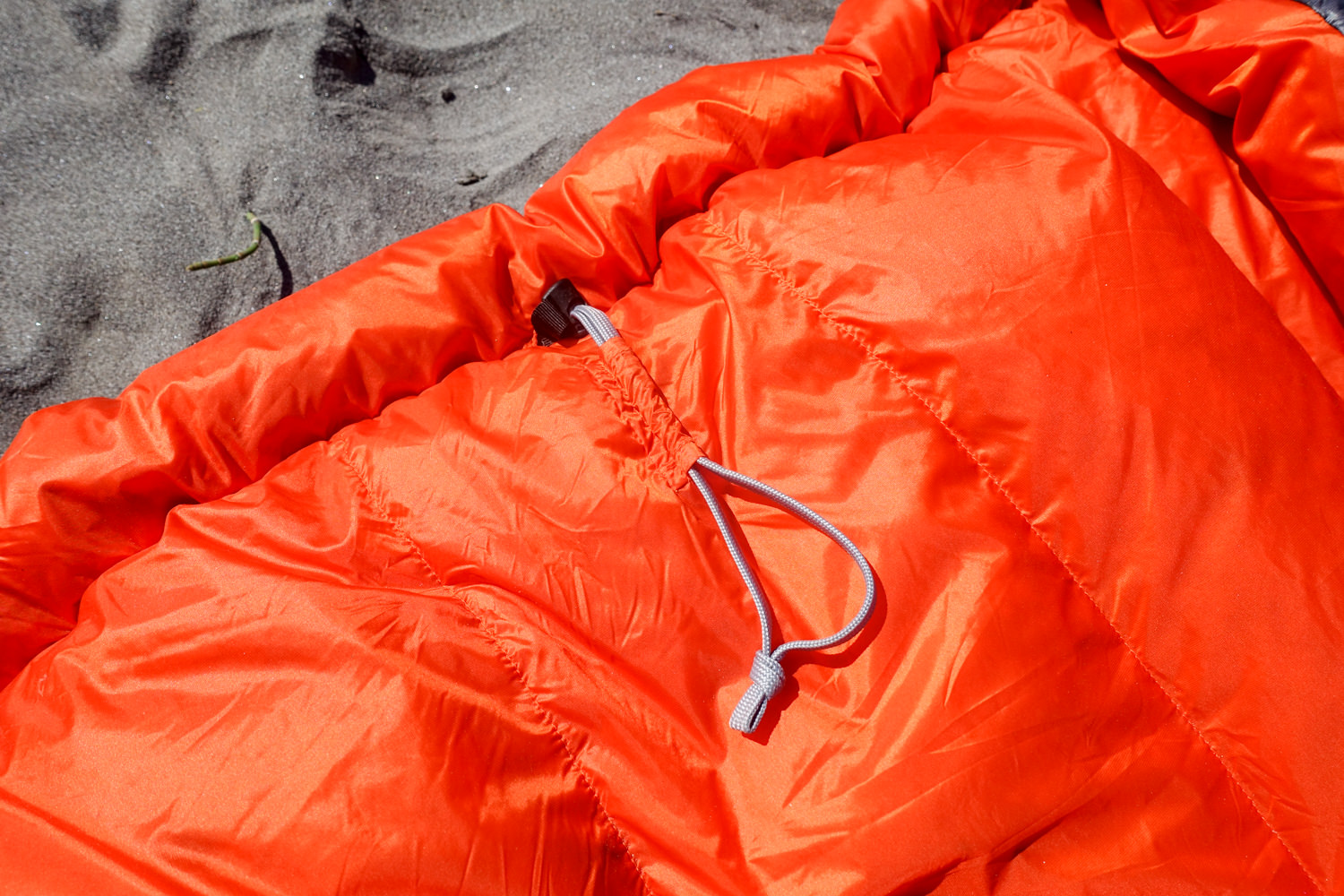 what we like
VALUE – The Magma Trail Quilt is undoubtedly an expensive piece of equipment, but it's very competitively priced given the quality of its materials. When compared to other sleeping Quilts in a similar class, the Magma Trail Quilt is an economical choice. When put to good use and taken care of, we think high-quality down sleeping bags and quilts are well worth the investment.
WARMTH –The high-quality down, insulated draft collar, wide cut, and closed footbox come together to give the Magma Trail Quilt an excellent warmth-to-weight ratio. This 30°F quilt is great for summer trips and possibly shoulder seasons (spring/fall) since the temperature rating can easily be increased by wearing a puffy coat and hat at night. In sub-freezing temperatures, we prefer to use full-zip sleeping bags that retain more heat and have lower temperature ratings.
WEIGHT & PACKABILITY – The Magma Trail Quilt is incredibly light, weighing in at only 1 lb. 3 oz. in the regular size. It also compresses nicely in a small stuff sack, making it a great choice for ultralight backpacking.
GENEROUS WIDTH & FOOTBOX –One thing we really like about the Magma Trail Quilt is that it's cut wide for mobility and minimum draftiness. A common complaint among ultralight quilt users is that some quilts don't have enough material on the sides to allow for side-sleeping and movement without letting cold air in. But the Magma is comfortable and cozy with its generous cut and large footbox, which allows even large feet to splay comfortably in a relaxed position.
QUALITY MATERIALS – TheMagma Trail Quilt is made with 15 denier Pertex Quantum fabrics which feel soft and comfortable against the skin. It's also filled with 10.5 oz. of high-quality 850-fill-power water-resistant down that will keep you warm at night, and light on the trail.
SMART CINCH-CORD DESIGN – The cinch-cord and button make it easy to tighten the insulated draft collar around your neck to hold body heat in on chilly evenings. The cinch-cord feature is common in quilts, but we really like the smart and unique fabric loop that tucks the extra cord away from your face and keeps it out of the way.
EFFECTIVE PAD-ATTACHMENT SYSTEM – Though we tend not to use pad-attachment straps because they can be cumbersome and annoying, we do think the Magma Trail Quilt's attachment system is beneficial for chilly nights when it's important to keep the quilt draft-free. The straps can be attached directly to the pad, and then clipped into the quilt, which makes them effective and fairly hassle-free.
what we don't like
LONG-TERM DURABILITY – The thin fabrics used on the quilt and its stuff sack make them extremely light, but also slightly limit their long-term durability Take care with the Magma's stuff sack in particular, as it seems likely to wear out over time. That said, if you're careful with your gear, the Magma Trail Quilt should last a very long time and thousands of trail miles.
LESS VERSATILITY –The Magma Trail Quilt is flexible for regulating your temperature because it can be opened-up or battened down, but it's not quite as versatile as a full-zippered quilt like the Feathered Friends Flicker. Instead the Magma Trail Quilt has a sewn footbox, which makes it warm, light, and easy to keep tucked properly around your feet, but this makes it a little more awkward to use as a blanket around camp.
Bottom Line
REI'sMagma Trail Quilt 30 is priced fairly, has a great warmth-to-weight ratio, and offers plenty of width for a comfortable night's sleep no matter what position you sleep in. Though this quilt has a 30°F lower limit rating, we view it more as a summer option and wouldn't feel comfortable taking it on trips when we expect sub-freezing temperatures. That said, it's important to remember that a warm hat and puffy coat will help boost warmth on chilly nights.
Overall, we're very pleased with the Magma Trail Quilt and we recommend it to anyone looking for a roomy, ultralight summer quilt that comes at a great price.
Want to see how the Magma Trail compares with other awesome quilts and bags? Check out our Best Backpacking Sleeping Bags and Best Backpacking Quilts guides, to get the inside scoop on products we've tested and used ourselves.
More information
We hope this review helps you determine if the Magma Trail Quilt 30 is right for you. As always, please leave a comment below if you have any recommendations, questions, or suggestions or visit our Facebook page and Instagram to join the community conversation. If you found this review helpful, please share on social media and click the little heart button below to give us a digital high five!
If you liked this list, you'll love the CleverHiker Gear Guide where we test and recommend tons of outdoor adventure gear from a variety of categories. here are some links to popular articles:
---
---
Some of the links on this page are affiliate links, which means we may receive a modest commission if purchases are made through those links. This adds no cost to our readers and helps us keep our site up and running. Our reputation is our most important asset, which is why we only provide completely honest and unbiased recommendations.