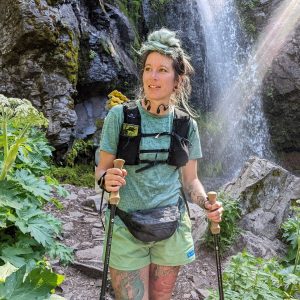 Casey Handley
Senior Gear Analyst
Casey is an experienced hiker and gear expert who brings a wealth of knowledge and expertise to the CleverHiker team. She has a passion for ultralight backpacking, years of experience working at REI, and a deep understanding of what people need and want from their gear. Casey has spent years researching, testing, and writing about outdoor gear to become CleverHiker's Senior Gear Analyst.
Casey has also hiked thousands of miles on some of the most beautiful and challenging trails in the country, including thru-hiking the Appalachian Trail, John Muir Trail, Arizona Trail, Colorado Trail, and Long Trail.
She has a background in English and writing, and her meticulous attention to detail is evident in the content she produces for CleverHiker. She also has a keen eye for style and design, making her a valuable contributor to our site's visual and written content.
Casey lives in her van somewhere in Central Oregon with her partner, dog, and cat. She spends her free time studying maps to plan her next thru-hike, shooting film in beautiful backcountry spots, and looking for ways to shave an ounce off her pack weight.
Articles by Casey Handley
The 50 Best Deals at REI's Gear Up Get Out Sale 2023
The 50 Best Deals at REI's Gear Up Get Out Sale 2023
Author
We scoured REI's Gear Up Get Out Sale (running Nov 10-20) and put together this list of the deals we're most excited about. Trust us, you won't want to miss this one!