The Pacific Northwest is an adventure junkie's paradise. It's a breathtakingly diverse playground of craggy granite peaks, high alpine lakes, meadows socked with wildflowers, a rugged windswept coastline, and more shades of green than your eyeballs can handle.
With so many stunning trails to choose from, it can sometimes be tough to find the ideal hike. That's why we put together this list of our personal favorite Pacific Northwest backpacking trips. These are some of the most iconic and spectacular trails the PNW has to offer, so dust off your pack and add one of these gems to your summer adventure list.
---
WONDERLAND TRAIL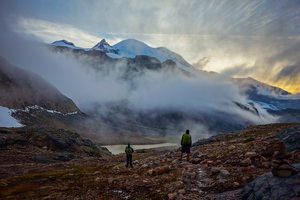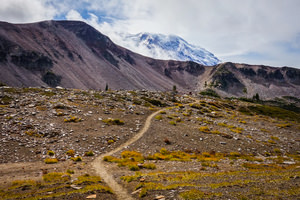 Length: 93 miles
Days needed: 8-13 days (most people take around 10 days)
Location: Mount Rainier National Park
Best time to hike: Late July to mid-September
Difficulty: Strenuous
The Wonderland trail circumnavigates massive and spectacular Mount Rainier over the course of 93 miles. It's a very challenging hike, with over 23,000 feet of elevation change, but the rewards are plentiful. With breathtaking glacier views, wildflower meadows, pristine lakes, and miles of lush rainforests, the ever-changing landscape of the Wonderland Trail will not disappoint.
Permits for this very popular hike can be secured in advance through a yearly lottery system, though the park does save some permits for walk-in travelers. In 2016 no advanced permits were issued, so all permits are being given on a walk-in basis. First come, first served. So, 2016 may be a good year to attempt this glorious beast of a hike.
Wonderland Maps & Guides
---
TIMBERLINE TRAIl
Length: ~40 miles roundtrip
Days needed: 3-5 days (most people complete the loop in 4 days)
Location: Mount Hood Area
Best time to hike: End of July to Late September
Difficulty: Strenuous
The Timberline Trail around Mt. Hood is one of Oregon's most iconic and scenic trails. This 40-mile loop is a fantastic way to experience the immense size and beauty of Mt. Hood. On the Timberline you'll encounter lush old-growth forests, pristine alpine waterfalls, wildflower-filled meadows, towering craggy glaciers, rough volcanic landscapes, and some of the finest cascade views around. The hiking certainly won't be easy, with plenty of ups and downs along the way, but in the end, the rewards are well worth it.
Timberline Maps & Guides
---
ENCHANTMENT LAKES
Length: 19 miles from Stuart Lakes Trailhead to Snow Lakes Trailhead
Days needed: 3-4 days to explore the entire area
Location: Leavenworth
Best time to hike: Permit timeframe is May 15th – October 31st.
Difficulty: Strenuous
Washington's Enchantment Lakes are a truly magical sight to see. They reside in an area where immense granite peaks, majestic mountain goats, and crystal clear alpine lakes are hidden around every corner. Be ready for big climbs and jagged peaks along well-maintained trails. For the ambitious hiker, there are some incredible side trips, such as the can't-miss climb to the top of Little Annapurna for jaw-dropping panoramic views. This area won't be too crowded because of the strict permitting process, but securing overnight permits during peak season will require good luck. This hike should be on every backpackers bucket list.
Enchantments Maps & Guides
---
WALLOWA RIVER LOOP
Length: 36 miles
Days needed: 4-5 days
Location: Wallawa-Whitman National Forest- Eagle Cap Wilderness
Best time to hike: Late July to September
Difficulty: Moderate to difficult
The Wallowa Mountain Range is one of the finest areas to backpack in Oregon. This loop will take you through the stunning (and popular) Lakes Basin Area and over some breathtaking mountain passes. Over the course of this loop you'll encounter crystal clear lakes and streams, wildflower-socked meadows, and granite peaks that will make you wonder if you're still in Oregon. There are also worthy side trips to the summit of Eagle Cap and Matterhorn that will further solidify your appreciation for the Wallowas. Although this trail sees its fair share of hikers, it's still well worth the trip.
Wallowa Maps & Guides
---
HIGH DIVIDE – SEVEN LAKES BASIN LOOP
Length: 19 mile loop
Days needed: 2-4 days
Location: Olympic National Park
Best time to hike: Mid-July to September
Difficulty: Moderate
Note: Bear canisters are required for this hike.
Olympic National Park has some of the most stunningly diverse backpacking trails in the Pacific Northwest and the High Divide Trail is one of it's most scenic. Though this trek is incredibly beautiful, it's definitely not a secret. That doesn't mean you should skip it, just don't expect much solitude. This trail winds its way through old growth forests as you climb into dramatic high alpine scenery. Once you reach the lakes basin, you will be spoiled with pristine pools, gorgeous meadows, and stunning views of Mt. Olympus.
Permits are limited for overnight camping between May 1st and September 30th, but there are also some permits given on a first-come, first served basis. And if you really want to go all out, you can end your trek with a visit to the Sol Duc Hot Springs Resort to rest those weary bones.
High Divide Maps & Guides
---
THREE SISTERS LOOP
Length: ~50 miles, depending on trailhead
Days needed: 3-6 days
Location: Three Sisters Wilderness
Best time to hike: Late July to October
Difficulty: Moderate
This 50-mile loop circles the North, Middle, and South Sister volcanoes, providing a fantastic array of diverse terrain. Take this amazing journey and wander through rugged volcanic landscapes complete with expansive pumice fields, pristine melt lakes, quiet old-growth forests, newly recovering burn areas, peaceful wildflower meadows, and glossy obsidian streams. This is truly an Oregon adventure that cannot be missed.
Three Sisters Maps & Guides
---
GOAT ROCKS – GOAT LAKE LOOP
Length: 13.5 miles. A day hike along the PCT will add miles but should not be missed.
Days needed: 2-3 days
Location: Goat Rocks Wilderness
Best time to hike: July to October
Difficulty: Moderate
With panoramic views of St. Helens, Rainier and Adams, the Goat Lake Loop is an ideal backpacking trip for those with limited time. Traverse through wildflower meadows and rocky ridges as you ascend to beautiful and frigid Goat Lake. There are a few epic campsites on the ridge near Goat Lake, but you may have to get there early to snag one. If you have more time, set up a basecamp near Snowgrass Flats and hike north along the Pacific Crest Trail. That's where you'll find some of the most jaw-dropping scenery in the area: mountain vistas in all directions with a knife ridge hike and, if you're lucky, mountain goats.
Goat Rocks Maps & Guides
---
OLYMPIC COAST TRAIL
Length: Varies (see NPS link below for trip options)
Days needed: Varies
Location: Olympic National Park Coastal Area
Best time to hike: Year Round, weather permitting. Winter storms can elevate tides and make beach walking hazardous, so closely monitor weather reports before your hike.
Difficulty: Moderate
Note: Bear canisters are required for this hike. Also, carry a tide chart and know how to read it when camping along the coast.
Many people visiting the Olympic National Park choose to hike into the Hoh Rain Forest or climb into the glaciated peaks surrounding Mt. Olympus. While both of those trips are awe-inspiring in their own right, don't discount the unique experience of backpacking along the Olympic Coast. You will see wild desolate beaches, endless sea stacks, and daunting headlands, with the chance to spot starfish and sea anemones in tide pools along the way. These 73 miles of rugged, undeveloped coastline are uniquely challenging, but very rewarding. Hike from one deserted beach to the next through a series of overland trails, many of which employ ropes and ladders to help you climb the eroded embankments.
Camping is permitted along the coast, except between the Quillayute River and Ellen Creek. The area between Shi Shi Beach and Ozette is the most stunning, however if you venture farther away you'll find more solitude. Along the coast there are some forested campsites and you can also camp on the beach, just make absolutely certain you're well above the high tide line.
Olympic Coast Maps & Guides
---
PNW BACKPACKING CONSIDERATIONS
LEAVE NO TRACE: We love backpacking and we want to spread the love. That's why we put resources like this together and we have a lot of fun doing it. The one thing that we ask in return is that you please follow wilderness regulations and help keep our wild spaces pristine for years to come. Leave no trace y'all.
BEST TIME TO TRAVEL: Snowpack is a key factor for trip planning in the Pacific Northwest. Some years a heavy winter snowpack and early season storms will keep trails covered into July. On warmer years with lighter snowpack, June backcountry trips are quite doable. The same is true for autumn hiking; some years early snowstorms make areas inaccessible and other years it's stable into October. Whenever you plan to hike, know how to cross snow safely and carry proper equipment. Pay close attention to the weather forecast and current trail conditions before your trip.
DIFFICULTY RATING: Difficulty depends on your experience, physical fitness, pack weight, trail conditions, and weather. It's nearly impossible for us to make individual difficulty recommendations without knowing you, so please think about those considerations when planning your hike.
PACKING LIGHT: We love lightweight backpacking because it makes hiking more enjoyable. And in the PNW, keeping your pack light makes a huge difference on climbs and descents. A big part of CleverHiker (our Gear Guide) is dedicated to recommending exceptional lightweight equipment to help minimize pack weight and maximize comfort.
SOLITUDE: Many of the trails on this list are iconic and therefore popular. Hiking during the week or outside of peak season will reduce the number of travelers you see on the trail. There are also hundreds of beautiful trails in the PNW where you can escape the crowds. So if solitude is a key concern for you, you might want to check out some other trails.
NAVIGATION: The trails listed in this guide are generally well-maintained and well-marked. That said, you should always carry a topographical map and compass in the wilderness and know how to use them. If you need a navigation refresher, check out our two videos; Navigation #1 – Staying Found, and Navigation #2 – Map, Compass, & GPS.
MOSQUITOES: July and August are generally great for wildflowers in the Pacific Northwest, but that's also the time when mosquitoes will be the worst. Use a combination of permethrin on your clothing and a small amount of 30% DEET on exposed skin for full protection.
BEARS: Black bears are common in the Pacific Northwest, so proper food storage is very important. You're less likely to see bears on popular trails, but there will still be small critters trying to get into your food supply, and they'll happily chew through your expensive gear to get after it. Make sure to carry a food storage container or know how to hang a bear bag properly. Bear canisters and Ursacks are the most effective and easiest storage methods.
RAIN: It's no secret that it rains a lot in the PNW. That's the main reason it's so green and lush, but continuous rain can also be a major bummer on backcountry trips. Hypothermia is a very real danger when hiking in the rain, so learning how to stay safe, dry, and happy in the rain is a key PNW skill. Pay close attention to the weather forecast before your trip and always be prepared for wet weather.
BACKPACKING BOOKS: The Backpacking Oregon and Backpacking Washington books are two of our favorite resources for Pacific Northwest trip planning. They feature well-detailed information on iconic trails such as the ones listed below, but also some lesser known yet equally worthy hikes. If you find yourself in the PNW backcountry often, find a space on your bookshelf for both.
WRAP UP
We hope you've enjoyed this list of our favorite Pacific Northwest backpacking trips. We absolutely love exploring the PNW and we hope these treks help you do the same. Please remember to hike responsibly and help preserve our beautiful wild spaces for generations to come.
For more popular CleverHiker content, check out the following links:
---
Disclosure: Some of the links on this page are affiliate links, which means we may receive a small commission if purchases are made through those links. This adds no cost to our readers and helps us keep our site up and running. Our reputation is our most important asset, which is why we only provide completely honest and unbiased recommendations.