Nepal is one of the most stunningly beautiful countries on the planet. It's a place where towering white peaks touch the sky, monks peacefully meditate in ancient mountainside monasteries, and lumbering yaks haul goods to quaint villages largely disconnected from the outside world. To put it simply, Nepal is a backpacker's dream come true.
For all it's grandeur and immensity, planning a trek in Nepal isn't as difficult as you might think. Trekking tourism has been popular in Nepal for decades and Nepalis are excellent hosts. Kathmandu has hundreds of quality guiding companies and "teahouse" lodges bring an entirely new level of comfort to the backcountry. Even for those with little backpacking experience, trekking in Nepal is likely to be accessible, affordable, and absolutely unforgettable.
So if you enjoy stunning views, radiant culture, and epic adventure, chances are you'll fall in love with Nepal. We hope you find this guide useful for planning your next trip.
Check out our Nepal Trekking Gear Checklist to help you with planning your adventure.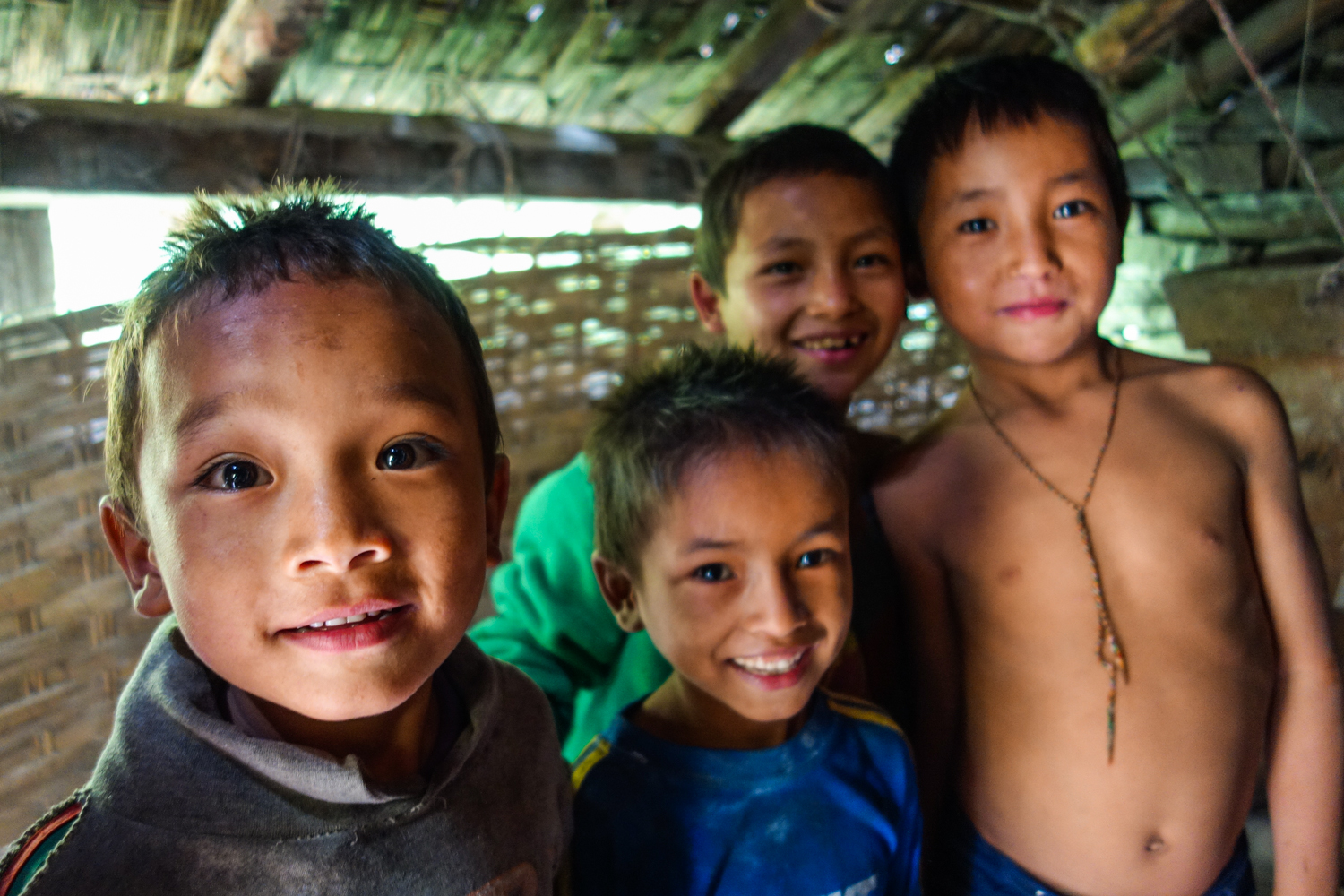 BEST TIME TO TREK
Technically you can hike in Nepal year round, but most trekkers choose between the two peak hiking seasons of fall and spring. If it's your first time trekking in Nepal, we recommend visiting during one of these peak seasons. The trails will be more crowded, but the benefits tend to be worth it in our opinion.
Fall (October – November): This is the most popular trekking season in Nepal. During this time you'll have the best chance for clear mountain views, sunny skies, mild temperatures, and little precipitation. The downside is that you'll be sharing the trail with throngs of other tourists and teahouses will be bumping, especially along the most popular routes.
Spring (March – April): Spring is the second most popular time of year to trek in Nepal. As the snowpack melts on high mountain passes, giant rhododendron trees bloom across the hillsides of Nepal. Temperatures are generally mild this time of year and it's a good time for viewing wildlife too. The two main downsides to spring hiking are busy trails and the possibility of hazy skies, which can obscure mountain views. That said, hazy skies tend to be less of an issue as you climb in elevation.
Off Peak Season: Trekking outside the peak seasons in Nepal can be rewarding as well. Solitude is easier to find, prices are cheaper, and befriending locals is easier too. That said, there are significant downsides to trekking outside the peak seasons in Nepal, so don't be too cavalier when choosing your travel dates.
Experienced winter travelers (December – February) can find sunny days and brilliant mountain views this time of year. That said, temperatures can be bitter cold, daylight hours are shorter, and harsh winter storms can disrupt travel plans with little warning. Also, many popular trails will not be accessible this time of year due to heavy snowfall at high elevations.
Trekking during monsoon months (May – September) is not usually advised. Monsoon rains bring landslides and leaches to Nepal. The former makes mountain travel very difficult (if not dangerous) and the latter is just gross and obnoxious. The weather can also be hot and humid this time of year and the mountains are often obscured by clouds.
---
TEAHOUSE TREKKING
One of the reasons Nepal is such an amazing place to hike is the teahouse trekking culture. "Teahouses" are essentially small mountain lodges frequently spaced along popular trails. On most trails in the Everest, Annapurna, Manaslu, and Langtang regions you'll pass a teahouse every hour or two. They're a great place to meet other travelers, eat a home-cooked meal, warm your toes by the fire, and bed down for the night.
On a teahouse trek you'll sleep in one of these lodges every night and you'll eat almost all of your meals in teahouses too. Accommodations are usually simple, comfortable, and very affordable. It's expected that you'll eat your meals wherever you stay, which is one of the reasons rooms are so cheap. Teahouses also sell snacks, candy, hot showers, beer, and sometimes even halfway decent wifi.
Most teahouses cost around $3-5 per night and can be booked upon arrival. The usual setup is a small room with two twin beds and a shared bathroom down the hall. Some teahouses have rooms with attached bathrooms, but you'll likely pay a premium for the upgrade. Blankets may be provided, but we recommend hiking with a sleeping bag for warmth, comfort, and cleanliness (learn more: Nepal Equipment Guide).
For those looking to hike in Nepal's more remote areas, camping treks can be arranged through most trekking agencies in Kathmandu. This option will add cost and complexity, but could lead to a unique and rewarding trek. That said, camping treks aren't nearly as popular as teahouse treks and camping won't be necessary on any teahouse trekking route.
POPULAR TEAHOUSE TREKS
It would be impossible to list all the fantastic and unique trails in Nepal. So instead, we wanted to highlight a few of our favorites and some popular recommendations. These teahouse trekking routes are all exceptional hikes, and they're a great place to start.
Everest Base Camp
14-16 Days

Difficulty: Moderate to Difficult

Best Time: March-April & October-November

This is the most popular trekking route in Nepal, and with good reason. Walk in the footsteps of the world's most famous climbers and gain a spectacular view of Everest from the peak of nearby Kala Patthar.
Annapurna Circuit
12-16 Days

Difficulty: Moderate to Difficult

Best Time: March-April & October-November

An extremely popular and stunning trek with lots of variety. This route combines spectacular mountain scenery with Tibetan-influenced culture and culminates at one of the highest trekking passes in the world, the Thorong La.
Annapurna Base Camp
7-10 Days

Difficulty: Moderate

Best Time: March-April & October-November

A fantastic trek for those with limited time still wanting to experience a stunning Himalayan amphitheater of mountains. This is also a lower elevation hike, which may make it better for those worried about altitude or hiking off-peak season.
Everest Three Passes Loop
18-20 days

Difficulty: Difficult

Best Time: March-April & October-November

For those with the time and physical ability, this is one of the most spectacular trekking routes on the planet. Hit the highlights of the Everest Base Camp route and the stunning Gokyo Lakes on this epic and increasingly popular loop.
Langtang Valley
7-9 Days

Difficulty: Moderate

Best Time: March-April & October-November

Once among the most popular trekking routes in Nepal, this area was hit hard by the 2015 earthquake, but it's on the rebound. Trekkers looking to avoid crowds on a hike filled with Tibetan culture, natural diversity, and fantastic Himalayan scenery should definitely take a closer look.
Manaslu Circuit
16-18 Days

Difficulty: Moderate to Difficult

Best Time: March-April & October-November

This trek features spectacular mountain scenery coupled with a rich and authentic Tibetan culture. Though Manaslu is gaining in popularity, it still sees a fraction of the travelers drawn to the Everest and Annapurna treks. Also, if you have the time, a side trip up the Tsum Valley should not be missed.
Gokyo Lakes
10-12 Days

Difficulty: Moderate to Difficult

Best Time: March-April & October-November

This is a great trek for those looking to avoid the crowds of hikers headed to Everest Base Camp but still seeking majestic Everest scenery. The views from atop Gokyo Ri may be the finest in all the Himalayas.
Upper Mustang
10-12 Days

Difficulty: Moderate to Difficult

Best Time: May-October

This heavily Tibetan-influenced district oozes with culture and panoramic Himalaya views. The uniquely arid mountain landscape of this region makes it a good choice when other areas are soaked in monsoon rains. This is a restricted area though and permits are pricy.
Poon Hill
4-5 Days

Difficulty: Easy to Moderate

Best Time: March-April & October-November

This lower altitude trek is a popular option among hikers looking for a shorter taste of Nepal's trekking culture. The route isn't nearly as remote as many treks, but the views from Poon Hill are still stunning.
DIFFICULTY RATING
Trekking difficulty will depend on a multitude of factors including your experience, physical fitness, pack weight, and weather conditions. There are many different types of treks to choose from in Nepal with varying degrees of difficulty. Make sure to choose a trek that fits your fitness level and train adequately before your hike.
Trekking trips in Nepal are not technical (no ropes, ice axes, or crampons), but there will still be big ups and downs. There are sure to be long days and sore legs, but treks in Nepal are paced to give a lot of time for rest and acclimatization, so don't fret. It certainly won't be easy, but most active hikers fair very well on Nepal's trails, especially with some training beforehand.
Porters are another consideration for reducing the difficulty of your trek. A porter can be hired to carry heavy gear, so all you have to tote is a small daypack. This option greatly increases accessibility along Nepal's trails. We were surprised and impressed by the amount of people in their 50's, 60's and even 70's who we met on the trail.
---
INDEPENDENT OR GUIDED TREKKING
Update: Effective April 1, 2023, new requirements require solo or foreign independent trekkers to use a local guide or porter while trekking in Nepal's national parks and protected areas.
This is an important question for many trekkers and the choice will likely come down to experience and personal preference. If you're a highly experienced backpacker traveling along a popular route (Annapurna Circuit, Everest Base Camp, etc.), it's likely that you'll get by just fine without a guide. That said, Nepali guides bring more to the table than just logistics management. A good guide can help you learn about local culture and may even become a close friend.
For many popular trekking routes in the Annapurna and Everest regions you won't be required to hire a guide. These trails are mostly well marked and have lots of travelers. This leaves the door open for experienced trekkers to hike independently, which is a nice benefit for those with the skills and know-how. If you're unsure of your preparedness or nervous about high altitude safety, we recommend hiring a guide. Also, for trekking trips to any restricted area, you will be required to hire a guide.
If you plan to hike independently, make sure you have a good map, the proper permits, and a good guidebook before you leave Kathmandu (see map & guidebook section below). Also, expect to put in a good amount of planning time to fully prepare for your hike.
Guided Trekking Pros
All pre-trip details handled (permits, fees, etc.)

All transportation arranged (bus, plane, jeep, etc.)

Little worry about any details while hiking (lodging, route, schedule, etc.)

Guidance & safety while trekking at high altitude

Local information on religion, culture, food, etc.
Independent Trekking Pros
Can be much less expensive

Hike on your own schedule

More direct interaction with locals

More choice on where to stay & eat (though guides usually know the best spots)

No group dynamics to deal with, just you and the trail.
GUIDES AND PORTERS
Guides and porters are very common in Nepal (though not always mandatory) and prices are quite competitive. In general a guide will cost around $25-30 per day and a porter will cost around $10-15 per day. A guide will help with logistics, information, and safety on your trek. A porter will carry heavy gear, so you only have to hike with a small daypack.
If you choose to trek with a guide, make sure they speak fluent English because they'll be the point person on your hike. They'll manage transportation, lodging, food, hiking schedule, routes, and safety on the trail. Your guide will also be a good source of information on local culture, customs, festivals, and norms. A good guide can be an extremely useful resource on the trail and they may even become a lifelong friend.
Porters are also useful and very common along trails in Nepal. Porters have the job of carrying heavy gear, so you don't have to. This is especially beneficial for older trekkers, novice trekkers, or groups with children. Just remember, even if you do decide to trek with a porter, it's still very important to keep your gear weight to a minimum. Porters have an absolutely backbreaking job, so please don't make it any harder on them.
Also, make sure to tip your guide and porters well. A good tip is about 15% of the total you paid for their services. Hand the money directly to each person to ensure they get the full payment. Guides and porters have very tough jobs and they often get surprisingly little compensation for their work.
Guide Recommendation
Looking for a guide on your trip to Nepal? I highly recommend reaching out to our friend Ganesh in Kathmandu. Ganesh is truly an exceptional guide and you'll love trekking with him if he's not booked up. He's knowledgeable, friendly, funny, and highly experienced. Here's his contact info: [email protected], Ace Vision Treks & Tours or ACE Vision Nepal, and Ganesh on Facebook. Just tell him Dave & Annie sent you.
---
TREKKING COMPANIES
There are literally hundreds of trekking companies in Kathmandu and many of them are very good. With a little online research (try tripadvisor) you should be able to find a bunch of highly qualified companies to help you plan a trek. Most companies plan treks advance, but you can also fly into Kathmandu and plan a trek in person surprisingly easily. Planning things in person will require more flexibility, but you'll likely save a good chunk of change and have the chance to interview guides before your trip.
Trekking Company Recommendation
During our most recent three months in nepal, we worked with Ram at Outdoor Himalayan Treks. Ram was absolutely fantastic and we'd highly recommend contacting him if you have any questions. He gave us tons of useful information and helped us plan transportation, accommodation, and trekking permits on a few of our hikes. Here's Ram's contact info: [email protected] or Ram on Facebook. Just tell him Dave & Annie sent you.
GROUP OR SOLO TREKKING
Some trekking companies offer group packages for popular trails. This can be a good way for solo travelers and couples to link up with other hikers and save a little money in the process. There are downsides to traveling in a large group as well, so make sure you know what you're getting into before you sign up. Many trekkers (us included) prefer hiking in small groups or with a personal guide. That type of travel will give you more flexibility and less compromise as you trek.
---
TEAHOUSE TREKKING GEAR
Need to know what to bring? Visit our Nepal Gear Guide & Checklist for personal recommendations on the best trekking equipment. You can also check out the CleverHiker Gear Guide for all our favorite non-Nepal equipment (tents, stoves, sleeping pads, etc.).
---
GUIDEBOOKS & MAPS
For general trip planning and research, we highly recommend picking up the Trekking in the Nepal Himalaya book. This book covers all the popular trails and some less popular routes too. It has extremely helpful information about trekking, accommodation, food, and general Nepal travel advice. We used this book nearly every day on the trail (we took pictures of pages with our phones to save weight) and found it very useful.
Once you decide on a trek, it should be easy to find specific maps and guidebooks when you reach Kathmandu. Just walk around Thamel (the main tourist hub in Kathmandu) and you'll find lots of bookstores catering to trekkers with the most updated resources.
Make sure at least one member of your group is carrying a detailed map of your trek. You may not need it much for navigation (most popular routes are well marked), but it will still be useful. Also, a good guidebook with detailed trail descriptions can be helpful as well. It's nice to know what challenges lie ahead and get excited for upcoming highlights.
TREKKING SAFETY
When hiking in Nepal, you'll be heading into remote areas far from reliable hospitals. That's why it's important to take every precaution before you set out. Below you'll find some of our safety tips for trekking in Nepal. Also, check out our emergency first aid skills tutorial video to brush up on your wilderness safety knowledge.
Educate yourself on Acute Mountain Sickness (more info below). Take the prescribed acclimatization days on high-altitude treks, stay hydrated, and listen to your body.

Helicopter evacuations are not uncommon in Nepal, and many of them are preventable. Evacuations like these can be incredibly pricy, so we recommend picking up trekking travel insurance before you trip.

Don't trek alone. If you're traveling solo consider hiring a guide or making friends to hike with.

Always pay close attention to weather conditions, especially on long pass days. Storms can develop quickly in the mountains and can be fatal if you're unprepared.

Always hike with a lightweight first aid kit and the 10 backpacking essentials.

Leave a detailed itinerary with an emergency contact and write important phone numbers on a piece of paper that will be easy to find in an emergency.

When encountering yak or donkey caravans, move to the inside (away from any cliff) and let them pass. These animals can sometimes be clumsy and may bump into you.

Crime is not common in Nepal, but it's not unheard of either. Keep a close eye on your belongings, especially your backpack filled with valuables.

Always carry enough water on the trail and stay hydrated. Also, bring a water purifier (more info below) to make sure your drinking water is clean.

Keep your eyes on the trail to avoid any missteps that could end your trek.

Be very careful around landslide and avalanche areas. Consult a guide or locals if a crossing looks difficult and don't take unnecessary risks. Turning around is always an option.
---
HIGH ALTITUDE SAFETY
If you're trekking in Nepal, there's a good chance you'll be hitting some high elevations, so it's important to know the basics of high altitude hiking. Acute Mountain Sickness (AMS) is no joke, and if you make reckless decisions or ignore symptoms, it could even kill you. Most hikers take the time to acclimatize properly and experience limited AMS symptoms if any, so there's no need to freak out. But you do want to understand AMS and take it seriously. Check out our high altitude safety tutorial video for more info.
---
TRAVEL INSURANCE
We highly recommend purchasing travel insurance if you plan to trek in Nepal. In fact, we wouldn't trek in Nepal without it. Most trekking locations in Nepal are very remote, so if something goes wrong, you're likely to need an emergency evacuation, and that can get insanely expensive.
When choosing travel insurance, make sure to buy a plan that will cover high altitude trekking and helicopter evacuations in Nepal. We did a bunch of research and ended up choosing World Nomads. Their rates were reasonable, their coverage was excellent, and communicating with them was easy. We fortunately didn't need to use our travel insurance, but the peace of mind alone was well worth it.
POST EARTHQUAKE CONDITIONS
Nepal was hit by a massive earthquake in April of 2015. Thousands died in the disaster and widespread damage affected many temples, buildings, roads, and some trekking infrastructure.
We spent 3 months trekking around Nepal in the fall of 2016 and had very few inconveniences due to the earthquake. Some signs of the devastation remain, but most trails have been fully repaired. Accommodations were safe and plentiful, especially along popular routes.
---
FOOD
Teahouse food options are generally simple but sufficient. Menus are roughly the same at most teahouses (see example menu below) with the ubiquitous dhal bhat as a hearty and delicious staple. You will also commonly find momos (dumplings), pasta, rice dishes, soups, pizzas, and in some places yak steak and apple pie. A home-cooked warm meal will always be a nice treat at the end of a long day on the trail.
Although teahouse menus are always similar, you'll notice that prices increase as you move farther away from cities. Most supplies must be carried by yak or donkey to remote locations, which explains the increase in cost. It's also always a good idea to carry snacks when trekking between villages and on long pass days.
*Note: If you plan to book a trip through a trekking agency, make sure to talk about food costs ahead of time. Most companies will give you two options: 1) you pay an up-front fee that will cover all food costs on your trip or 2) you bring money and pay for meals as you go. The first option is easier because you won't have to hike with lots of cash and handle money throughout the day. The second option can be much cheaper though, because you'll only pay for exactly what you order.
Below is an example of a typical teahouse menu. Prices are displayed in Nepalese Rupees (about 100 = 1 USD). For reference, this was one of the most expensive teahouses we visited.
---
WATER
It's important to have a water treatment plan before you trek in Nepal. Water is usually easily accessible, but you'll want to purify it first for safety. Water treatment pills, UV sterilizers, and water filters are all popular options. You can also purchase bottled water from teahouses, but that's an eco-unfriendly strategy that will greatly increase cost and waste on your trip. We used a SteriPEN Ultra on our last Nepal trip and we highly recommend it. It was fast, easy to use, and we didn't have to ingest any funky tasting chemicals.
While hiking, we recommend carrying at least 1-2 liters of water and filling up often. Staying hydrated is essential while trekking and it becomes increasingly important as you hike higher in elevation. Also, it's easy to forget about drinking water when it's chilly outside, but it's imperative to stay hydrated. Ordering pots of hot tea can be a great way to ensure you're getting enough fluids on cold days.
MONEY
Trail towns don't have ATM machines and teahouses rarely accept credit cards, so you'll want to make sure you bring plenty of cash for your trek. In the fall of 2016, we budgeted around $30 per person per day for food and accommodation on our treks. In the Annapurna and Manaslu regions that budget covered our daily expenses and then some. We often had extra funds for treats like hot showers, beer, and baked goods. In the Everest region our $30 per day didn't go quite as far, but we were still able to buy the occasional treat.
In general, it's always smart to carry more cash on the trail than you might think. Luxury items like chocolate, tea, beer, wifi, and hot showers are all great morale boosters, but the costs add up. You may also want to buy small gifts, replace broken equipment, or hire transportation if your travel plans fall through.
It's also important to consider the costs of charging your electronic devices. Some teahouses will let you charge batteries for free, but most collect a fee. Usually you'll be able to get a full battery charge for $2-5, but in remote areas it can cost more.
Most teahouses offer hot showers for a fee, usually around $3-5 per shower. Showers will range in quality from a bucket of hot water to the rare proper shower. We found it often wasn't worth the cost for a mediocre shower, so we recommend bringing wet wipes for quick cleaning.
*Note: Namche Bazaar in the Everest region does actually have an ATM machine, but it can be inconsistent, so we wouldn't recommend counting on it.
---
TRANSPORTATION
Most visitors fly into the Tribhuvan International Airport (KTM) in Kathmandu, the capital city of Nepal. Kathmandu is a great base for sightseeing, planning a trek, or any last minute hiking preparations.
In general, transportation around Nepal is very slow going. Long bus rides, cancelled flights, and unexpected delays are sadly part of the norm. So make sure to give yourself a couple buffer days when planning your trip and embrace the adventure.
Most popular treks depart directly from Kathmandu or Pokhara, the second largest city in Nepal. Some treks are accessible via flight, but many require a long bus or jeep ride to the starting point. Depending on your destination, there will usually be a couple different options to get there. Local transportation tends to be cheaper, but "tourist" options will often be far more comfortable.
---
PERMITS
If you organize a trip through a trekking company, they will take care of the logistics for you. If you choose to trek independently, you'll need to get the proper permits and pay any park/conservation fees before your trek.
Every trekker in Nepal needs a TIMS card (Trekking Information Management System), which costs around $20. You can get your TIMS card and pay your park fees at the Nepal Tourism Board offices in Kathmandu or Pokhara before your trek.
It's also likely that you'll need to pay conservation or national park fees. These can be obtained ahead of time and commonly cost around $20-$30, depending on where you'll be hiking. You may be able to pay some park fees on the trail, but we found it much easier to take care of everything ahead of time.
UPDATE- JANUARY 13, 2018 – There have been some changes to the TIMS requirements for the Khumbu (Everest) region. It is no longer necessary to obtain a TIMS Card for this area. Instead, they are collecting a Khumbu pass, which costs NRS 2000 or USD 20 per person. It is uncertain how long this change will stay in place as many people in the travel agencies are unhappy with the system. We always recommend checking the most current requirements before beginning your trek.  
PERMITS – RESTRICTED AREAS
There are several restricted areas in Nepal that require special trekking permits. If you're heading to one of these areas you'll need to obtain permits through a registered trekking agency and travel with a guide. As of March 2017, the following areas require restricted-area permits: Manaslu, Nar-Phu, Tsum Valley, Upper Mustang, Dolpo, Kanchenjunga, and Humla.
PHONES AND WI-FI
For better or worse, it's becoming increasingly easy to stay connected while trekking in Nepal. Along the most popular routes, some teahouses sell wifi and you may even get a phone signal using a local SIM card. Don't count on staying connected though, because service is often unreliable at best.
If you buy a local SIM card in Kathmandu, there are two main companies to choose from: Ncell and Nepal Telecom. As of fall 2016, there was minimal (if any) coverage in remote regions, such as Manaslu, Tsum Valley or Dolpo. In the Annapurna region, Nepal Telecom SIM cards seem to work okay, while in the Everest region, NCell was a better bet. We were far from impressed by phone connectivity on the trail, but we expect coverage will get better in the coming years.
Wifi may be available at some teahouses along your trek as well, though speed and functionality will be highly variable. In the Everest region they sell pre-paid wifi cards (around $3 for 100mb) that work well but get used up quickly. In contrast, on the Annapurna Circuit you may pay a one time fee of $3-5 for wi-fi access, but connections can be very slow (if working at all).
---
VISA INFORMATION
In order to enter Nepal you will need to obtain a tourist visa. Most people get a visa on arrival at the Tribhuvan International Airport in Kathmandu. You can also do this ahead of time at a Nepal Embassy if you are traveling overland from India.
As of March 2017, US travelers had three tourist visa options. You could choose a 15 day visa ($25), a 30 day visa ($40), or a 90 day visa ($100). There are electronic visa machines at the international airport and staff to assist with forms. We applied for a 90 day visa on arrival and found the process to be surprisingly quick and efficient.
Please check current visa guidelines for specific information as these policies can change and this website is not an official source of information on Nepal visas.
---
RESPONSIBLE TREKKING & CULTURAL CONSIDERATIONS
The number one rule of backpacking conservation is Leave No Trace. Learn it and live it.

Don't buy bottled water in teahouses. The extra cost and waste are not worth it. Instead, use treatment pills, a water filter, or a UV sterilizer. We used the SteriPEN Ultra and loved it.

Don't litter. Pack out your trash and keep Nepal beautiful for generations to come. If you really want to be a superstar, pack out trash that you find along the trail.

Deforestation is a real problem in Nepal. Avoid using firewood and stay in lodges that use eco-friendly fuel.

Dress conservatively, especially when sightseeing in towns. For women, this sadly means no shorts or shirts that show shoulders.

Public displays of affection are frowned upon in Nepal, so save it for private time.

Walk to the left of religious monuments such as mani walls, chortens, and prayer wheels. If you spin a prayer wheel, always spin it clockwise.

Follow the rules when visiting temples. Shoes off, no exposed shoulders, cover your legs, and don't take pictures inside. Also, don't enter Hindu temples wearing leather products.

Always ask permission before taking a photo of a person. Most people won't mind, but if they decline, respect their wishes.
MORE RESOURCES
Hopefully you found this guide helpful for planning your trip to Nepal. We have truly fallen in love with Nepal and we know you will too. For more helpful resources check out the following links:
And as always, please feel free to leave a comment below if you have any recommendations, questions, or suggestions. Take care and happy hiking!
---
Disclosure: Some of the links on this page are affiliate links, which means we may receive a small commission if purchases are made through those links. This adds no cost to our readers and helps us keep our site up and running. Our reputation is our most important asset, which is why we only provide completely honest and unbiased recommendations.