The North Coast section of Olympic National Park – from Shi Shi Beach to Rialto Beach – is not your ordinary walk on the beach. This route features some of the most rugged and isolated coastal landscapes in the country. From tidepools full of life to sea stacks miles out in the ocean, every headland you round offers another breathtaking view.
This is a challenging hike and your daily mileage will be dependent upon making it to headlands at low tide or using ropes to traverse overland trails. On this trek you'll also encounter some stretches of sandy beach, scattered boulders that require scrambling, and lots and lots of rock hopping.
QUICK FACTS
Distance: About 37 miles, but it may vary depending on tides
Days Needed: 3-5 days
Best Time to Travel: May through September
Permits: Required, more info below
Difficulty: Difficult
HIGHLIGHTS
Beautiful beach scenery
Marine wildlife (eagles, starfish, seals, sea lions, seahawks, whales, a whole bunch of crabs)
Colorful sunsets over the ocean
Petroglyphs (be sure to get to Weddings Rocks at low tide!)
Solitude
Campsites all have great ocean views
LOWLIGHTs
Quickly changing tides make it difficult to get miles in
Long stretches of rocks and boulders to traverse
Soft sand and pebble beaches are exhausting to hike on
Steep overland trails with some sketchy rope assists
Olympic Coast is often foggy, drizzly, and chilly
Multiple permits and bear cans required
BEST TIME TO TRAVEL
The months of May through September are the best times to travel to this area. Early spring, late fall, and winter can all be especially chilly and rainy on the Olympic Coast, and there are very few places to find shelter from bad weather on this hike. Traveling in the warmer and less rainy summer and late spring months will make for the most pleasant trip.
DIFFICULTY: tides & river crossings
We rate this hike as difficult. Navigation is very easy, you just follow the coastline, but the difficulty comes with timing. There are many headlands that can only be rounded at low tide; a couple can never be passed unless you happen to get a negative tide. Some of these headlands have rope-assisted overland trails to go up and over if you don't get there at the right tide, but some don't and you will have to wait a few hours to be able to pass. We got caught by the tide on more than one occasion. This can be quite dangerous if you get caught in a low elevation spot or on an exposed rock. We spent four or five unpleasant hours cooking on a 20 square foot rock with six foot drop offs to waves crashing against rocks on either side. Not fun. All that to say, timing is really critical, so make sure you print out a tide table for the dates of your trip.
Rounding headlands is usually rocky and slow-going, but we generally preferred it over taking the rope assisted overland trails. Going around the headlands, you can find plentiful tidepools with starfish, anemones, little hermit crabs and all kinds of other marine life. The ropes on the overland trails are hard on your hands, the trails up and down are extremely steep (some are completely washed out on one side), and some of the ropes are fraying and have sketchy anchor points.
There is one crossing of the Ozette River on this route. We went across at negative tide in the morning after camping at the north bank, which made it a very easy crossing. The water was about up to the knee and wasn't moving too quickly. If you don't hit this spot at low tide, the crossing can be a little more unpredictable. Winter run-off and heavy periods of rain will also change the conditions of this river, so stay aware of the weather when planning your trip.
To ensure a safe and enjoyable trip, follow these safety guidelines:
When traveling along the coast, know the tides.
Bring a map and a tide chart to plan your route.
Be prepared to hike over headland trails during high tides. Some headlands cannot be rounded even during the lowest of tides.
When camping on the beach, camp above the high tide water line.
PERMITS & REGULATIONS
Note: We are not an official source for permit information and park policies. For the most up-to-date information check with the park service.
PERMITS
Wilderness permits are required year-round for all overnight trips on the Olympic Wilderness Coast; they are limited between May 1st and September 30th when more people are visiting the coast. Making reservations is required for campsites between Yellow Banks and Point of Arches (we recommend making reservations for all other sites you'll stay at while you're at it).
Wilderness permit reservation requests are usually submitted in March of each year, but you'll want to check the official website for the specific date. You can submit your reservation request online at www.recreation.gov or in person at a park Wilderness Information Center during business hours. A third option for phone reservations is usually available a bit later in the year. This option will allow users to call the Recreation.gov call center at 1-877-444-6777 to obtain a reservation.
You must pick your pre-arranged permit up at the Wilderness Information Center in Port Angeles which is north of Olympic National Park or from the South Shore Lake Quinault Ranger Station near the southwest end of Olympic. We went to the Quinault Ranger Station for our permits, map, and tide chart.
These were the permit fees at the time of our trip:
Wilderness permit flat fee per group (group size is 12 people max): $6
Camping fee per person per night: $8
Alternatively, if you plan to camp for more than five nights in Olympic National Park over the course of the year, you can buy the Olympic Annual Wilderness Pass which covers one individual's camping fees for a 12 month period (permits and reservations are still required with the Wilderness Pass). The Wilderness Pass costs $45 per person.
After you get your wilderness permit, you will need to get a permit to enter the Makah Indian Reservation where the trailhead is. The permit is $10 (valid for the whole year!) and there are a few different places where you can pick this permit up. We chose Washburn's General Store because it is en route to the trailhead and we could pick up some last minute items there.
REGULATIONS
The Olympic Coast is a beautiful section of wilderness that contains fragile marine ecosystems. It's ALWAYS important to practice Leave No Trace whenever you go into nature to protect yourself and others, wildlife, and the environment. Olympic National Park has a few rules of their own.
Bear canisters are required for all food, garbage, and scented items – bear cans may be rented from the Wilderness Information Center in Port Angeles or the South Shore Lake Quinault Ranger Station, but their stock is limited
Fires are permitted on the beach (except between Wedding Rocks and Yellow Banks) ten feet from beach logs and below the high tide line
Do not gather wood from the forest, only gather from the beach
Pets, vehicles, bicycles, wheeled devices, and stock animals are prohibited on park beaches and coastal trails
Avoid walking on or picking up tidepool animals
Take no more than a handful of unoccupied shells
TRAILHEAD & PARKING
To hike this trail end-to-end from Shi Shi Beach to Rialto Beach, you'll need to park a vehicle at either end of the hike, arrange for transportation ahead of time, or hitchhike back to your car.
If you have two vehicles in your party: There is an overnight backpackers lot at the Rialto Beach trailhead to leave the first vehicle at, then you drive north to Shi Shi Beach (about an hour and 50 minutes) where you can park on private land in the Makah Indian Reservation about a half mile from the trailhead. Parking prices vary here, but the land we kept our vehicle on was $10 per night. There is a parking lot at the Shi Shi Trailhead, but it's not recommended to keep your vehicle there overnight due to break-ins and vandalism.
If you are arranging transportation from one end back to your vehicle: There's not a lot of information on individuals or companies offering rides between these trailheads, but we found Olympic Hiking Co. They offer shuttles from Rialto to Ozette, then Ozette to Shi Shi (they don't charge for the second location shuttle if you book with a group).
If you're planning to hitchhike back to your vehicle: First things first – don't get in the car if it doesn't feel right. Say you just realized that you forgot your camera and you need to go back to look for it. Tell the car to go on without you and walk away, you don't want to take an unnecessary risk. We've done a lot of hitchhiking between trail towns and trailheads and have never had a bad experience, but things can happen. Always stay aware of your surroundings and, if possible, have a partner with you if you must hitchhike.
CAMPSITES
There are designated campsites along this route, most of which will have you camping directly on the beach sand. There are a limited number of forested campsites at some locations, so if you don't want to camp in the more exposed beach sites, get to camp early! We highly recommend making reservations ahead of time for the following sites if you plan to stay at them because space is very limited:
Seafield Creek
North side of Ozette River
South side of Ozette River
Cape Alava
Wedding Rocks
Yellow Banks
BACKPACKING GEAR: WHAT TO PACK
We prefer lightweight backpacking because it's more comfortable and it allows us to cover more ground with less effort. For recommendations on our favorite lightweight backpacking equipment, check out theCleverHiker Gear Guide and ourTop Picks page.
TENT: We used the NEMO Hornet 2P on this trip. We love this tent for its low weight and small packed size. The Hornet 2P is on our list of the Best Backpacking Tents.
BACKPACK: We used the Granite Gear Vapor Trail 60. This pack is a slightly updated rerelease of a Granite Gear classic, and we like how affordable, minimalist, and lightweight it is. Check out our list of the Best Backpacking Packs for our top backpack recommendations.
SLEEPING BAG: We took the REI Co-op Magma 30 on this trip. It's lightweight, warm, and packs down super small. The Magma bags are on our list of the Best Backpacking Sleeping Bags and they are our top pick for all around sleeping bag value.
SLEEPING PAD: We Used the Klymit Static V2 on this trip. It's the perfect balance of budget-friendly, comfy, and light. The Static V2 is on our list of the Best Backpacking Sleeping Pads and is our top pick for best budget sleeping pad
COOKING SYSTEM: We took the MSR Pocket Rocket 2 Stove, Toaks Titanium 900 ml. D115mm Pot, and Sea to Summit Alpha Light Long Spoon. The Pocket Rocket is on our Best Backpacking Stoves list and is our top pick for canister stoves.
WATER FILTER: We took the Sawyer Squeeze on this trip, because It's lightweight and easy to use. We also recommend checking out the Sawyer Micro Squeeze which is even smaller and lighter and is our top pick for best all-around filter on our list of the Best Backpacking Water Filters.
SHOES OR BOOTS: We wore Chaco Z/1 Classic Sandals for this hike. Controversial, we know, but we like that our toes can wiggle freely and that it's okay to dunk a tootsie or two into a puddle without having to worry about wet socks or shoes.
HEADLAMP: We took the Black Diamond Spot 325 from our list of the Best Headlamps. We love that it's bright, lockable, and has a long burn time.
FOOD: When backpacking this route you'll have to carry all your food. Check out ourBest Lightweight Backpacking Food Guide and ourBest Freeze Dried Backpacking Meals for some of our go-to recommendations.
FOOD STORAGE: When backpacking the North Coast Route you'll have to carry all your food in an approvedbear canister. When using a bear canister, make sure to choose calorically dense foods that won't take up too much space.
CLOTHING: Here are some of our favorite hiking/backpacking clothing items from ourTop Gear list.
MAP & COMPASS: We picked up a map and tide chart from the South Shore Lake Quinault Ranger Station which worked well for us. You can also get the Green Trails Map No. 99S- Olympic Coast Beaches if you want to have it before you go. Both maps have great information about what tide is needed to round headlands. In addition, we always hike with acompass.
FIRST AID KIT: Always bring a small personalized first aid kit; we used the.3 Ultralight Kit.
SUN PROTECTION: Most of this hike is exposed to full sun. Sunglasses (polarized recommended), sunscreen, and spf lip balm are a must.
POCKET KNIFE: We brought the Gerber Paraframe I Knife. It's small and cheap and came in handy a couple of times.
OTHER ITEMS:
We all brought a pair of cheap, lightweight work gloves to save our hands while using the rope assists on overland trails
Small towel: theNano Pack Towel is great.
Cash and ID
Permits
Personal toiletries
Hand sanitizer
Wet wipes
Insect repellant: a 1oz bottle ofPicaridin will do the trick
Camera: theSony Rx100 is our go-to camera for lightweight backpacking.
For more info on what to bring on your next trip, check out our Ultimate Backpacking Checklist.
More North Coast Route photos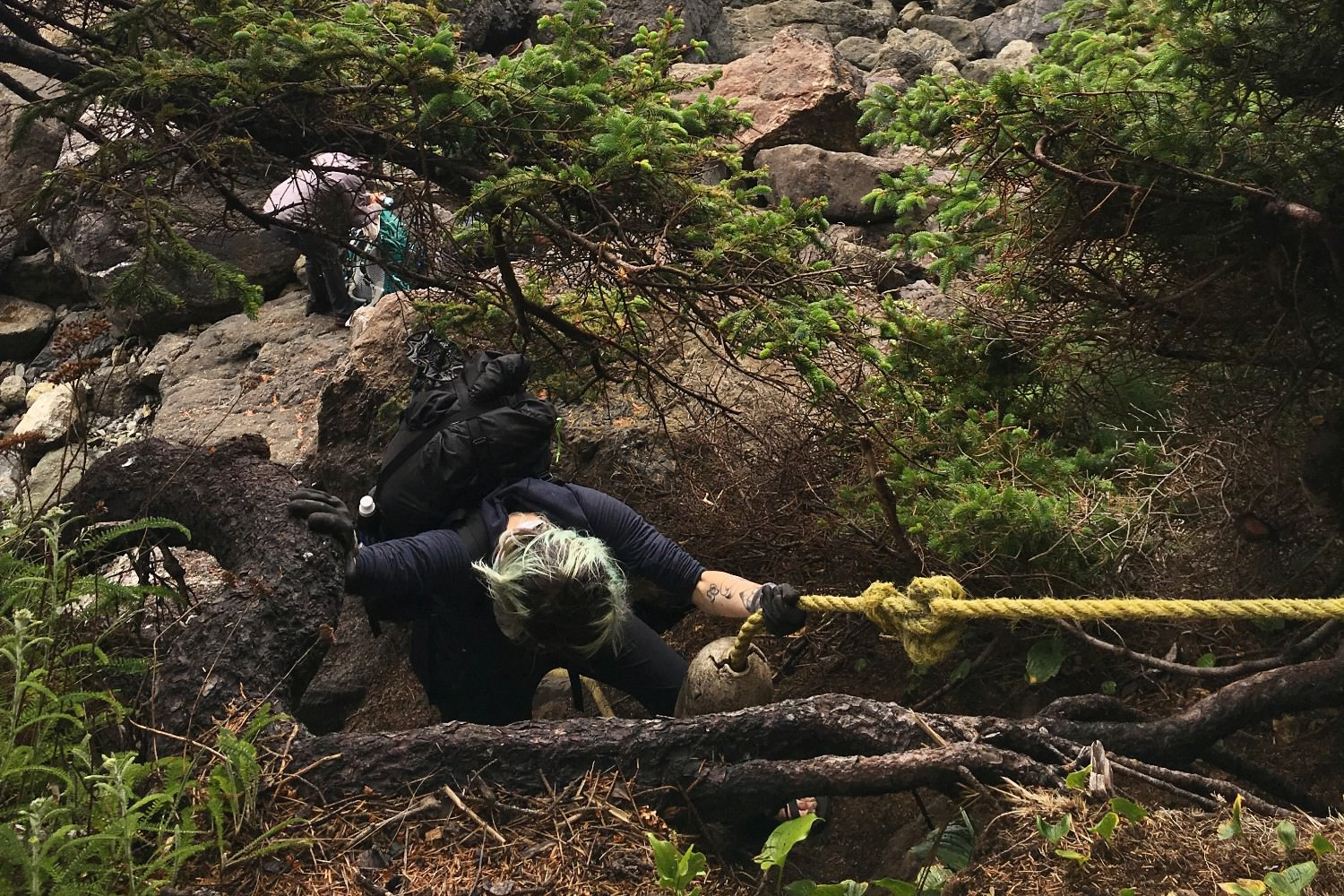 MORE INFORMATION
We hope this guide helps you plan a fun adventure along the Olympic Coast. As always, please leave a comment below if you have any recommendations, questions, or suggestions. And if you found this guide helpful, please share on social media and click the little heart button below to give us a digital high five!
For more popular CleverHiker content, check out the following links:
---
---
Disclosure: Some of the links on this page are affiliate links, which means we may receive a modest commission if purchases are made through those links. This adds no cost to our readers and helps us keep our site up and running. Our reputation is our most important asset, which is why we only provide completely honest and unbiased recommendations.