Gorgeous alpine meadows and pitch-perfect backcountry camping make this area, especially at sunset, a wonderland. It gets its name from the red castle-like peaks that stand like a fortress above the basin. With the ability to visit three different lakes along the trail, you could easily spend three days here, though most complete the trip in two. The landscape here is unbelievably photogenic, so don't forget your camera. The Red Castle Peak downright glows at sunset.
QUICK FACTS
Distance: 20 miles (32 km) round-trip

Days Needed: 2-3 days

Elevation Gain: 1,437 feet (438 m)

Peak Elevation: 10,824 feet (3,300 m)

Best Travel Time: Late June – October, depending on snow level
HIGHLIGHTS
Wildlife, including owls, elk, moose, mule deer 

Fascinating geology 

Fantastic photo opps

Beautiful lakes and streams

Beautiful meadows and wildflowers

Nicely graded trail, never too steep

Great fishing opportunities

Dogs allowed (leashed)
LOWLIGHTS
Can be busy on weekends

Rough rock strewn landscape

Muddy, rocky trails

Seasonal mosquitos

Cold lakes makes swimming tempting but challenging

Giardia and campylobacter are prevalent in the streams and lakes
BEST TIME TO TRAVEL
July to September offer the best temperatures in the High Uinta Wilderness. Daytime highs are typically in the high 70s, while night temperatures during summer range between 30-40 degrees. Afternoon thunderstorms are fairly typical and lightening is always a serious threat above treeline. 
August is the busiest month for backpacking in the high country, specifically in the basins. To avoid the crowds, we recommend visiting this area mid-week, if possible. 
Prior to any trip into the backcountry, check the National Weather Service for the local forecast.
DIFFICULTY
We rate most backpacking trips in this area as moderate due to rocky, sometimes muddy trails and the high elevation. As always, difficulty ratings depend on the route you choose, experience, physical fitness, pack weight, and weather conditions. Although most routes in Uintas are not technically demanding, you should always plan thoroughly, train properly, know your limitations, brush up on your skills, and dial in your gear. Doing so will make for a more safe and enjoyable adventure.
PERMITS
No permits required for backpacking Red Castle Lakes. Overnight parking at the trailhead is $3.00 per vehicle, per day and is self-issued. 
TRAILHEAD 
You'll begin this hike at the China Meadows Trailhead. For those looking to get an early start the following day, there's also a fee campground at China Meadows.
To get to the trailhead, take Wyoming State Highway 410 South out of Mountain View for about 8 miles. The highway makes a sharp right turn to the west. Go straight on to Uinta County Road 283 (unpaved, gravel) and continue to Forest Service Road 072. Follow the signs past the Stateline Campground and past the China Meadows Campground to the China Meadows trailhead. 
CAMPSITES
Campsites are first come, first serve and most abundant around Lower Red Castle Lake in forested areas. There are a few possible camps higher at Red Castle Lake, but this area is completely above treeline, fully exposed, and can get extremely windy.
POSSIBLE ITINERARIES 
Most people complete this backpacking trip in 2-3 days. There is an option to connect Henry Forks Lake Loop to Red Castle Lakes to make for a longer backpacking trip. That said, the connecting trails can be very hard to follow and non-existent at times. It'll require excellent navigation skills, following cairns/blazes, and using GPS as you hike past the Lake Hessie turnout. The view from the top of this pass is stunning, but we would only recommend this route for experienced backpackers. 
Lower Red Castle Lake and Red Castle Lake are beautiful and fairly easy to access via well traveled trails. There is an option to continue even farther to Upper Red Castle Lake, but that will require a very challenging traverse over boulder fields and loose scree along the west slope of Red Castle Lake. There are a few cairns and signs from other hikers, but for the most part the route to Upper Red Castle Lake is completely off trail, and we really only recommend it to confident experts. 
Two Day Itinerary
STARTING TRAILHEAD:China Meadows Trailhead
ENDING TRAILHEAD: China Meadows Trailhead
Day 1 – Hike to Lower Red Castle, Camp (day hike up to Red Castle)
Day 2 – Return to China Meadows Trailhead
TOTAL MILEAGE: 20 miles 
Three Day Itinerary
STARTING TRAILHEAD:China Meadows Trailhead
ENDING TRAILHEAD: China Meadows Trailhead
Day 1 – Hike to Lower Red Castle, Camp (day hike up to Red Castle)
Day 2 – Hike back down E. Fork Smiths Fork to Junction with the Highline "A" North Slope (also called the Henrys Fork Junction). Go 2.5 miles east, then southeast on this trail to the Junction with Lake Hessie, go west for a ¼-mile and camp at the lake.
Day 3 – Retrace back China Meadows Trailhead
TOTAL MILEAGE: 25.5 miles
MAPS & GUIDEBOOKS
WATER
Water is plentiful along the trail to Red Castle Lakes and accessible from small streams and lakes. Though many sources look pure, Giardia and Campylobacter are present in this area so we recommend using a lightweight water filter (here's a list of our faves). We carried the MSR Trail Shot on our most recent trip and were happy with its performance. Two other good lightweight options are the SteriPen Ultra and Aquamira Drops.
REGULATIONS
For a full list of wilderness regulations in this area, visit this website. But in, general, the following apply:
Stay on designated trails and do not cut switchbacks.

Select a campsite 200 feet from trails or streams.

Wash yourself and dishes away from water sources and only use biodegradable soap when necessary.

Bury human waste and fish entrails 6-8″ deep and 200 feet away from water sources.
Campfires are prohibited near most lakes in this area, so please be respectful of this. Rangers can and will ticket offenders. The following lakes prohibit campfires: 
Lower Red Castle Lake 

Hessie Lake
CRITTERS & FOOD STORAGE
Black bears are not a problem in this area so there are no food storage requirements. That said, you should always protect your food against rodents and small critters, which actually tend to cause many more problems than bears. We recommend packaging all your food and scented products in a food storage container such as an Ursack. 
BUGS
Mosquitoes are present along this route and can be pretty vicious, especially early in the season and near bogs and water sources. Hiking later in the season is often bug-free. Use a combination of permethrin on your clothing and bring a small bottle of DEET for exposed skin to provide full protection.
BACKPACKING GEAR
We prefer lightweight backpacking because it's more comfortable and it allows us to cover more ground with less effort. For recommendations on our favorite lightweight backpacking equipment, check out the CleverHiker Backpacking Gear Guide and our Top Backpacking Gear Picks page. 
What to Pack
TENT: We used the Big Agnes Copper Spur HV UL3  tent on this trip for its lightweight livability. The Copper Spur is a top pick on our best lightweight backpacking tents list.
BACKPACK: We used Hyperlite Mountain Gear's Southwest 2400 backpacks on this trek. The Southwest is incredibly lightweight, durable, nearly waterproof, and is a top pick on our best lightweight backpacks list.
SLEEPING BAG: We used the Feathered Friends Egret UL 20 and the Western Mountaineering UltraLite sleeping bags on this hike for night time temperatures right around freezing. Both sleeping bags are lightweight, warm, and make our list of the best backpacking sleeping bags.
SLEEPING PAD: We used the Therm-a-Rest NeoAir XLite andNEMO Tensor Insulated sleeping pads on this trip. Both are light, comfortable, warm, and make our list of the best backpacking sleeping pads.
COOKING SYSTEM: We used the BRS Stove, Snow Peak Mini Solo Cookset, and Snow Peak Folding Spoons on this hike, all of which make our top picks gear list and best lightweight stove list. 
WATER PURIFIER: We used the MSR Trail Shot as our main purification method on this trip. It's lightweight, affordable, and makes our best water purifiers list.
SHOES OR BOOTS: We wore Saucony Peregrine 8 trail runners (men's and women's) on this trail and they were excellent. If you prefer boots, make sure they're lightweight and break them in really well before your trip. Here's why we prefer hiking in trail running shoes: 5 Reasons to Ditch Your Hiking Boots. Also, here's our list of the best backpacking shoes and boots.
HEADLAMP: A small headlamp like the Petzl Actik is an affordable, bright, and lightweight option. We're big fans of ours.
FOOD:You'll have to carry all the food you'll need on this trip. Check out our Best Lightweight Backpacking Food Guide and our Best Freeze Dried Backpacking Meals for some of our go-to grub recommendations.
CLOTHING:
Here are some of our favorite hiking/backpacking clothing items from our Top Gear list. 
MAP &COMPASS: Although the trails here are well-marked, you always want to hike with a good map and GPS system, such as Gaia GPS. For our trip, we hiked with the National Geographic High Uinta's Wilderness Trails Illustrated Map and used the route description provided in Hiking Utah's High Uintas: A Guide to the Region's Greatest Hikes. In addition, we always hike with a lightweight compass.
FIRST AID KIT: Always bring a small personalized first aid kit. We use the Ultralight .7 Kit and add extras, like painkillers and personal medications.
SUN PROTECTION: Sunglasses (polarized recommended), sunscreen, and spf lip balm are an absolute must for every backpacking trip.
POCKET KNIFE: We brought along a small Swiss Army Knife, which came in handy here and there.
OTHER ITEMS:
SMALL TOWEL: the Nano pack towel is great.

CASH and ID

PERMITS

PERSONAL TOILETRIES

HAND SANITIZER: Always apply after using a bathroom and before eating.

WET WIPES: These can be useful for cleaning up after hiking.

INSECT REPELLANT: Use a combination of permethrin on your clothing and bring a 1oz bottle of DEET for exposed skin to provide full protection.

CAMERA: The Sony RX100 is our go-to camera for lightweight backpacking
More Red Castle Lakes Photos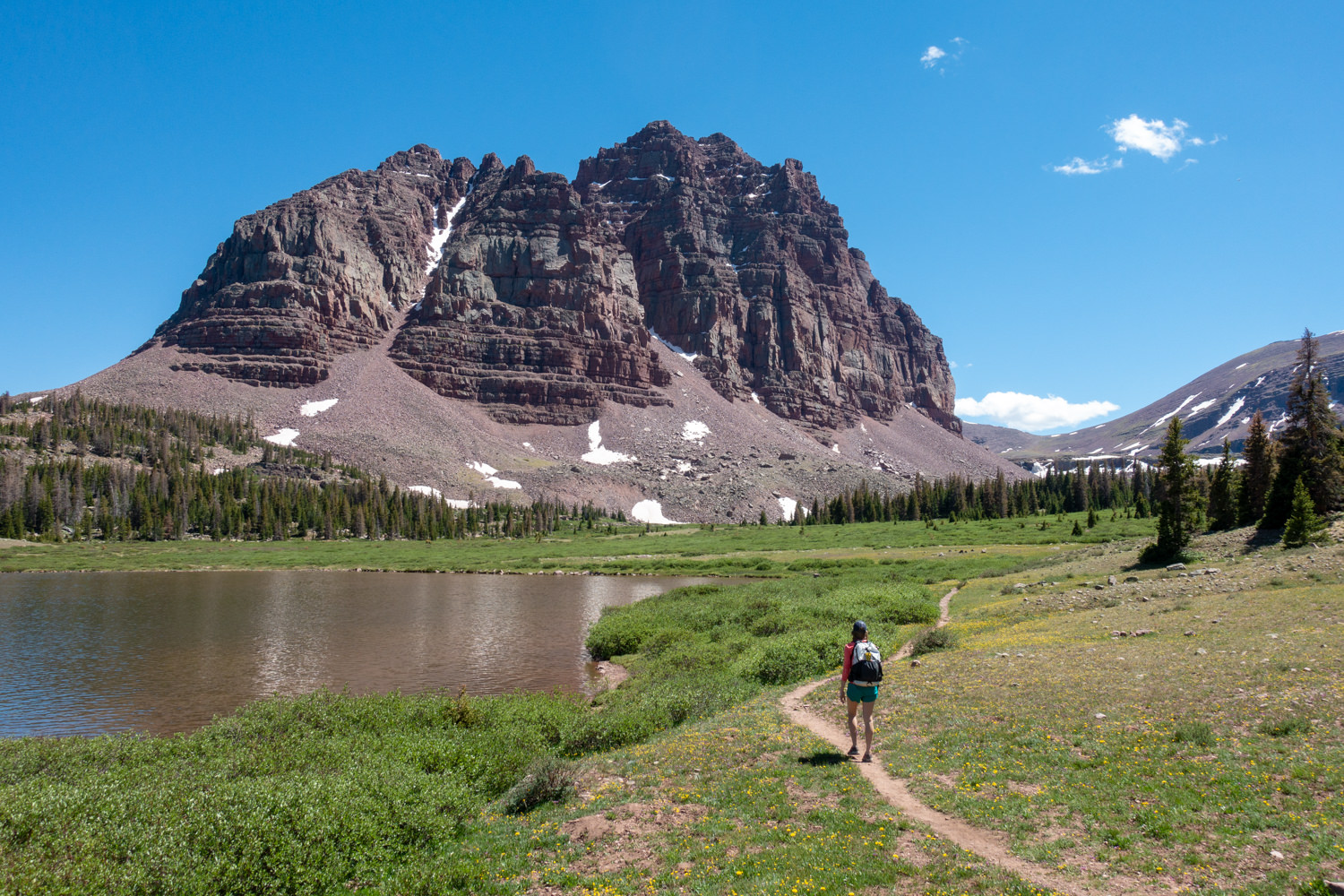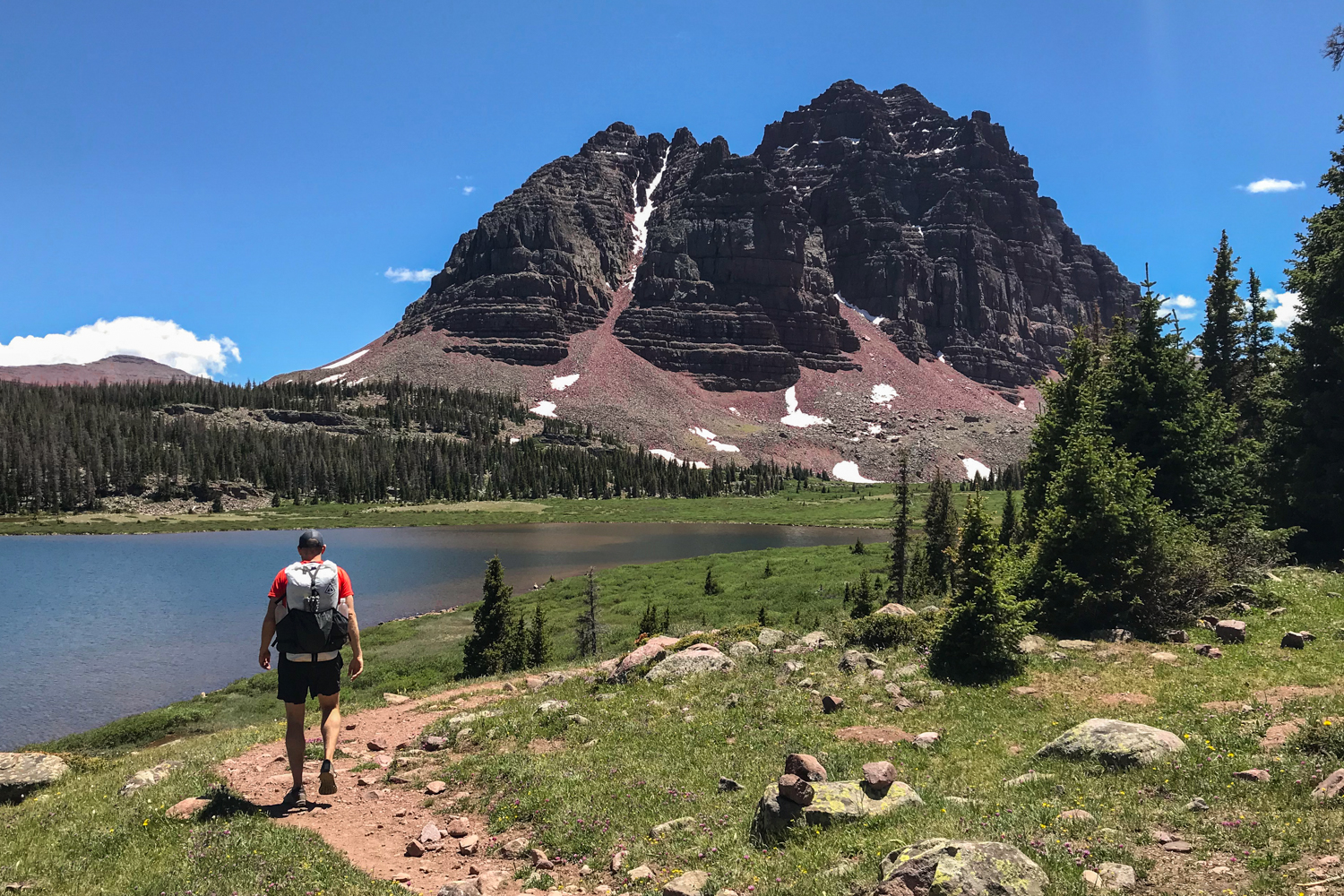 More Information
We hope this guide helps you plan your trip to the Red Castle Lakes. Leave a comment below if you have any recommendations, questions, or suggestions. And if you found this guide helpful, please share and click the little heart button below to give us a digital high five!
For more popular CleverHiker content, check out the following links:
---
Some of the links on this page are affiliate links, which means we may receive a small commission if purchases are made through those links. This adds no cost to our readers and helps us keep our site up and running. Our reputation is our most important asset, which is why we only provide completely honest and unbiased recommendations.