A place made iconic by a National Geographic photographer (and subsequently a screen saver), Reflection Canyon, located on the Escalante arm of Lake Powell, perennially entices hikers far and wide. One of the things that makes Reflection Canyon a bucket lister is the fact that you can't just drive up or drive by. The route is long, rough and remote — the trailhead from Escalante, Utah takes 2 to 3 hours to get to during periods of good weather — and you still have to navigate 8-9 miles off-trail through fully-exposed sand and sage brush, across slickrock, and up and down rutted desert ravines.
Don't be fooled by the name either. This long, exposed hike is not really through a canyon or to a canyon in the usual sense of the term. But the effort nonetheless delivers you to a fantastic gooseneck bay bordered by Navajo sandstone cliffs with alcoves the size of symphony halls cradling overflow from nearby Lake Powell. Though stunningly beautiful, we only recommend this hike to experienced backpackers with expert off-trail navigation skills.   
Quick Facts
Distance: 16-18 miles out-and-back (26-29 km)

Days Needed: 2 days

Peak Elevation: 4,466 ft.

Elevation Gain/Loss: 1,234 ft.

Best Travel Time: Late March to May and September to October

Permits: Required (see below)

Difficulty: Moderate-Difficult
Highlights
A stunning final vista

Beautiful sunrises and sunsets

Fabulous photo opps

Solitude, expect to see few other backpackers

Star-studded night sky

You can take your dog
Lowlights
No water en route, must carry in all water

Very exposed. No shade along the entire route

No trail, off-trail navigation skills required

Can be susceptible to quickly changing weather

Campfires not permitted and impossible anyway (no wood fuel)

Remote, no cell service

You must carry all human and pet waste out. You're not permitted to bury it.
Best Time to Travel
In general, March to May and September to October are the best times to hike to Reflection Canyon. Rain can impact the road in a big way and is a key factor for trip planning in this area. Summer monsoons can make the access road – Hole-in-the-Wall Road – impassable. Freezing nighttime temperatures are the biggest limitations in early spring and late fall. The wind can be ferocious in this area in March-April and during the winter. In summer months temperatures can easily reach above 100°F during the day and may be uncomfortably hot for sleeping at night too.
As always, be prepared and diligent in monitoring current conditions as weather can change quickly. Be sure to both check weather and road conditions at the Escalante Interagency Visitor Center before you head out. Fast moving storms dumping significant rainfall can quickly wash out portions of the road and create sections that are muddy, slippery and tire-sucking. Alternatively, check the National Weather Service information before you head out.
Also, keep in mind that in high water years, Lake Powell will backfill Reflection Canyon and reduce the photographic drama. The iconic S-shaped course of the canyon will not be quite as pronounced in these circumstances. The sandstone rocks will be further submerged, leaving only little domes peeking out of the watercourse. The view is still amazing though.
Difficulty
Total Distance: 16-18 miles out-and-back (26-29 km)

Total Elevation Gain/Loss: 1,234′ (average 3% grade)

Overall Difficulty: Moderate-Difficult
We rate this hike as moderate to difficult due to lack of an official trail as well as its remote, exposed nature. As always, difficulty ratings depend on your experience, physical fitness, pack weight, and weather conditions. Although not a technically demanding hike, this route requires expert navigation skills and careful planning for hydration. Consider leaving desert inexperienced dogs (and humans) at home. Like any backpacking trip, you should plan accordingly, train properly, know your limitations, brush up on your skills, and dial in your gear. Doing so will make for a safe and enjoyable adventure.
Permits
Backcountry permits are required for all overnight trips in and around Glen Canyon Recreational Area and Grand Staircase Escalante National Monument. Pick up a free walk-in permit at the Escalante Interagency Visitor Center just east of Escalante, Utah before your trip. 
Getting to the Trailhead
To reach the trailhead for Reflection Canyon, drive on State Highway 12 until you reach Hole-in-the-Rock Road and the "40 Mile Bench turnoff sign where the road carves a large U curve. This is about 5 miles southeast of the City of Escalante, your last stop for food and water. At the bottom of the U, exit the highway to the south onto the maintained dirt road. Drive 50 miles south and look for a small parking area on the right . 
Keep in mind that Hole-in-the-Rock road is typically washboard like and can be very rough on sedan tires. It's also sometimes washed out after heavy rain. Be especially mindful to avoid the shoulders as soft sand can divert vehicles into the ditch. 
A 4-wheel drive vehicle is recommended after storms or during wet season, but you should still build an extra day into your schedule should it rain as the road can quickly turn to a slick muddy mess that will leave you stranded until it dries out. Higher clearance cars and SUVs can make it out to the trailhead during dry weather with careful driving. 
Campsites
With no designated campsites, you're free to camp wherever you like. There's a good spot to camp on the rock shelf near the overlook to Reflection Canyon. Setting up a non-freestanding tent will require patience and creativity on this rocky terrain, so we recommend bringing a freestanding tent, or cowboy camping in good conditions (more info in gear section below). 
Possible Itineraries
Most people complete this hike in 2 days with one night spent near the Reflection Canyon overlook. Because this are has no water, shade, or trails, longer trips are more logistically difficult to plan. That said, there are plenty of other fantastic hiking opportunities around this area to complete before or after this hike.
ONE NIGHT OPTION
Day 1 – Camp near the Reflection Canyon overlook

Day 2 – Return to trailhead
Route Details
The off-trail route to Reflection Canyon follows a faintly established path that often gets swept free of footsteps after high winds blow through. The risk of getting lost in this area is high if you aren't well equipped for route finding and navigation. It goes without saying that getting lost in an exposed, waterless area like this could easily lead to dire consequences, so we highly recommend proper planning before this trip. 
The key feature to focus on for navigating this route is Fifty Mile Point Mountain. When facing south (to start your hike for example), these straight edge cliffs (pictured above) should always remain on your right side and serve as your guardian route marker. You'll want to keep relatively close to the base of these cliffs, because a maze of 50-100 foot slot canyons await you if you stray too far to the east. 
After hiking along the base of these cliffs for around 5-7 miles (see basic map photo above), you'll see a key navigation feature for this route. A "squared off" section of cliff (4 pictures of this feature are below from different angles) denotes the place that you'll leave the cliffs and head southeast towards the Reflection Canyon viewpoint. From this point, you have about 2 more miles of trailless, slickrock, up and down, hiking.
Navigation is a bit trickier from this point on without the cliffs as your guide, but there is one tall butte (also pictured below) that will help guide you. Head generally towards this high point, but traverse around it to the left (north) so as not to get stuck high up on the surrounding steep cliffs. Shortly after you pass the butte you'll reach the overlook and your eyeballs will rejoice. 
Maps & Guidebooks
Always carry a topo map, compass, and GPS in the wilderness, and know how to use them. If you need to brush up on your skills, check out these navigation videos we made on staying found, and map & compass navigation. Below are some helpful resources for planning your trip. 
Water
There is no water on this trail, so you'll need to carry in all water. You also can't get any water from Lake Powell because the Reflection Canyon viewpoint is too high and steep to descend. Plan on packing 1 gallon (4 liters) per person, per day at a minimum. In hot weather you'll probably want to carry 1.5 gallons (6 liters) per person per day. Carrying this much water will feel very heavy in your pack, but not having enough water would be way worse. We recommend using sturdy yet light Platy Bottles for toting water in the desert. Also, check out our backpacking water purification guide for water tips and gear recommendations.
Critters & Food Storage
Ravens and mice are opportunists in this area. Leaving your gear untended and unprotected is never a good idea, though the risk of aggressive critters is very low. Rattlesnakes live out here as well, so watch where you put your hands and feet.
Bugs
The only insect you really need to worry about on this hike is the rare scorpion. We've seen them in the area, so just watch where you put your hands and feet (especially at night) and check your shoes or boots before putting your feet in them. 
Backpacking Gear
We prefer lightweight backpacking because it's more comfortable and it allows us to cover more ground with less effort. For recommendations on our favorite lightweight backpacking equipment, check out the CleverHiker Gear Guide and Top Picks page.  
What to Pack
TENT: Depending on the time of year, this area can be ideal for cowboy camping (no tent, just a ground sheet). The rock shelf by Reflection Canyon is a good place to sleep under the stars. We brought the REI Co-op Quarter Dome 2 on this trip for its lightweight livability and convenience. Check our our list of the best lightweight backpacking tents for our top recommendations.
BACKPACK: We used the ZPacks Arc Blast backpack on this trek. It's ultralight, convenient, comfortable, and makes our list of the best lightweight backpacking packs.
SLEEPING BAG: We used the Enlightened Equipment Revelation quilt on this trek for warm desert night time temperatures. It's lightweight, warm, and make our list of the best backpacking sleeping bags and quilts.
SLEEPING PAD: We used the Therm-a-Rest NeoAir XLite sleeping pad on this trip. It's light, comfortable, warm, and make our list of the best backpacking sleeping pads.
COOKING SYSTEM: We used the BRS Stove, Snow Peak Mini Solo Cookset, and Snow Peak Folding Spoon on this hike, all of which make our top picks gear list and best lightweight stove list.
WATER BLADDER -You will have to carry all your water along this route, so good water bladders are key. We use Platypus Platy Bottles on all our desert hikes and we love their lightweight durability.
SHOES OR BOOTS: We wore Saucony Peregrine 7 trail runners (men's and women's) on this trail and they were excellent. If you prefer boots, make sure they're lightweight and break them in really well before your trip. Here's why we prefer hiking in trail running shoes: 5 Reasons to Ditch Your Hiking Boots. Also, here's our top picks for the best backpacking footwear. 
HEADLAMP: A small headlamp like the Petzl Actik is an affordable, bright, and lightweight option. We use ours all the time and they work great.
FOOD: When backpacking the Reflection Canyon you'll have to carry all your food.Check out our Best Lightweight Backpacking Food Guide and our Best Freeze Dried Backpacking Meals for some of our go-to recommendations.
CLOTHING: Here are some of our favorite hiking/backpacking clothing items from our Top Gear list.
MAP, COMPASS & GPS: The route to Reflection Canyon follows a faintly established path that often gets swept of footsteps after high winds blow through. The risk of getting lost is pretty high if you aren't well equipped for route finding. Just remember that when you're facing south, the straight edge cliffs (Fifty Mile Point Mountain) on your right serve as your guardian route markers. Make sure they always remain on your right while you're hiking. You'll know you're off route if you encounter a maze of 50-100 feet slot canyon walls. When you see the cliffs square off, it's time to turn your back to the cliffs and head more east southeast. The overlook into the canyon is about two miles from this point.
For more info, read the "Route Details" and "Maps & Guidebooks" sections above. In addition, we always hike with a topo map, quality compass, and Gaia GPS .
FIRST AID KIT: Always bring a small personalized first aid kit. We use the Ultralight .7 Kit and add extras, like painkillers and personal medications.
SUN PROTECTION: Sunglasses (polarized recommended), sunscreen, and spf lip balm are an absolute must on every backpacking trip, especially for an exposed trek like this.
POCKET KNIFE: We brought along a small Swiss Army Knife, which came in handy here and there.
OTHER ITEMS:
SMALL TOWEL: the Nano pack towel is great.

CASH and ID

PERMITS

PERSONAL TOILETRIES

HAND SANITIZER: Always apply after using a bathroom and before eating.

WET WIPES: These can be useful for cleaning up after hiking.

INSECT REPELLANT: Though there were few insects on this trip, we usually pack a small bottle of 1oz bottle of DEET. You can also treat your clothing with Permethrin prior to your trip, but this may be an overkill for Reflection Canyon.

CAMERA: The Sony RX100 is our go-to camera for lightweight backpacking.
More Reflection Canyon Photos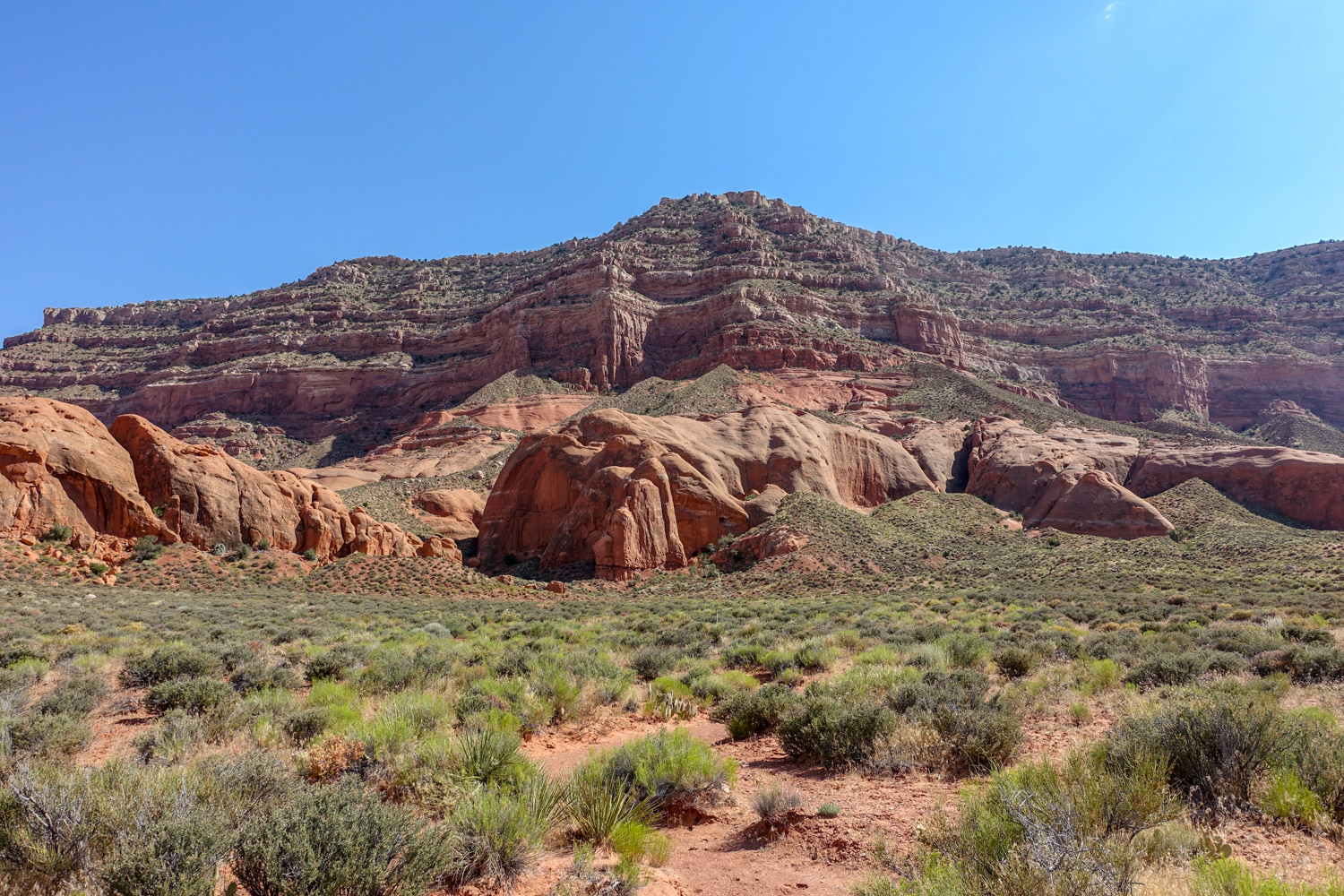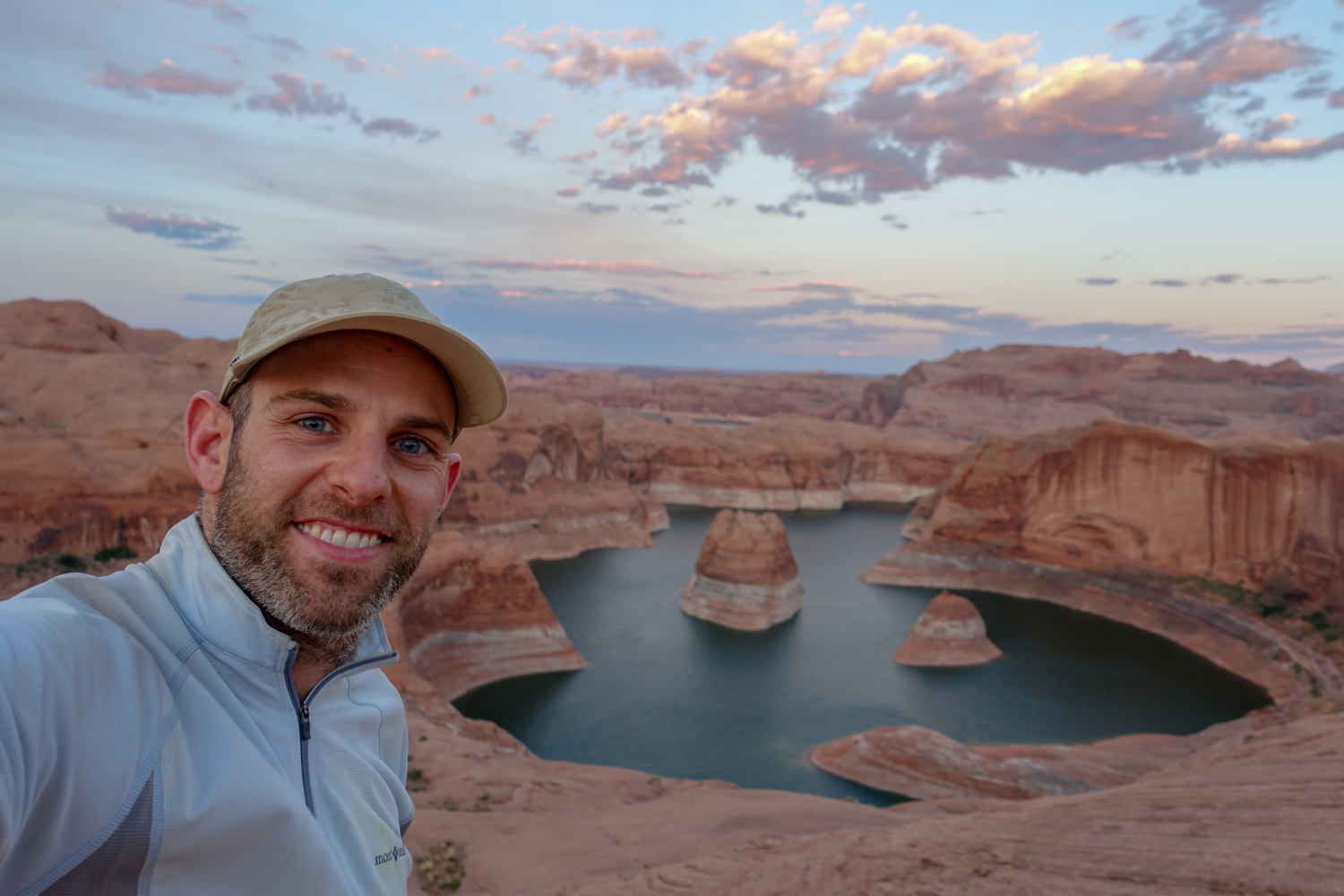 More Information
We hope this guide helps you plan a fun adventure to Reflection Canyon. As always, please leave a comment below if you have any recommendations, questions, or suggestions. And if you found this guide helpful, please share and click the little heart button below to give us a digital high five!
For more popular CleverHiker content, check out the following links:
---
Some of the links on this page are affiliate links, which means we may receive a small commission if purchases are made through those links. This adds no cost to our readers and helps us keep our site up and running. Our reputation is our most important asset, which is why we only provide completely honest and unbiased recommendations.